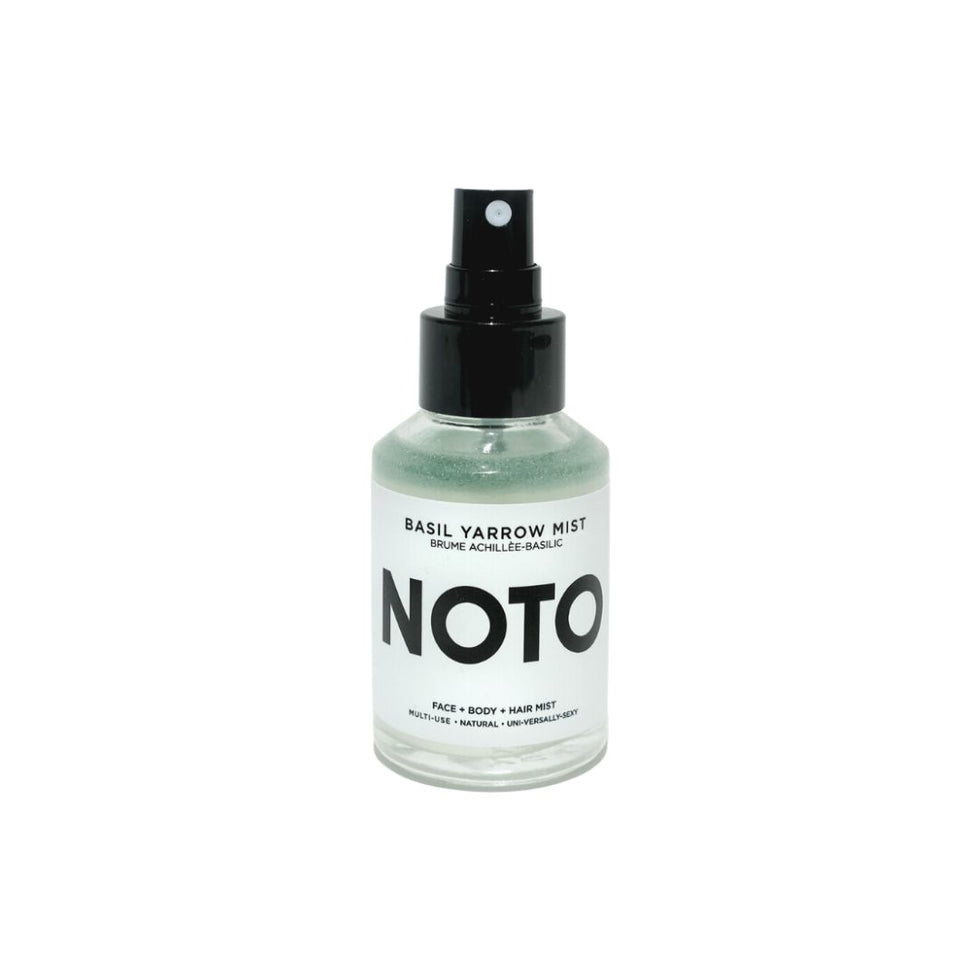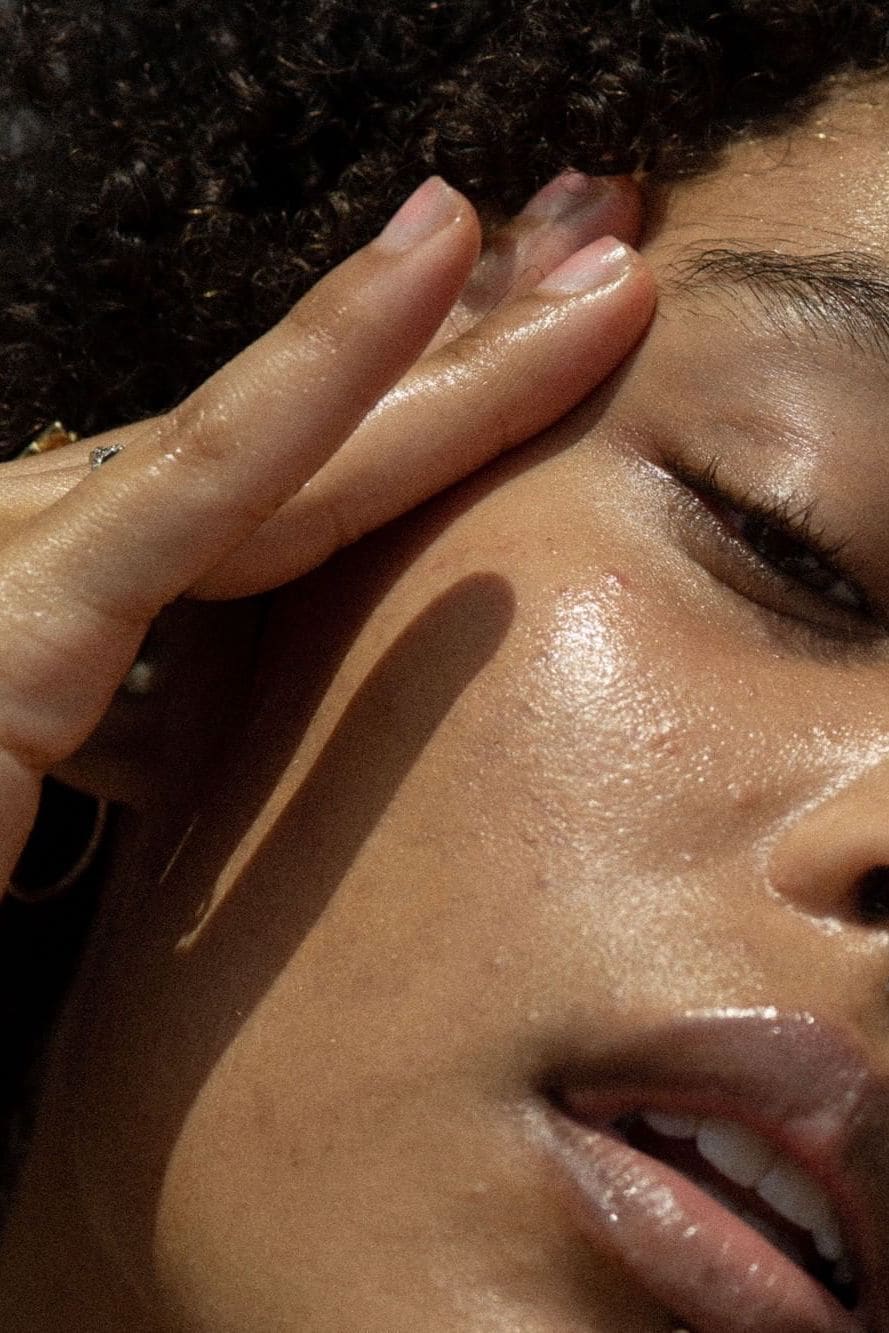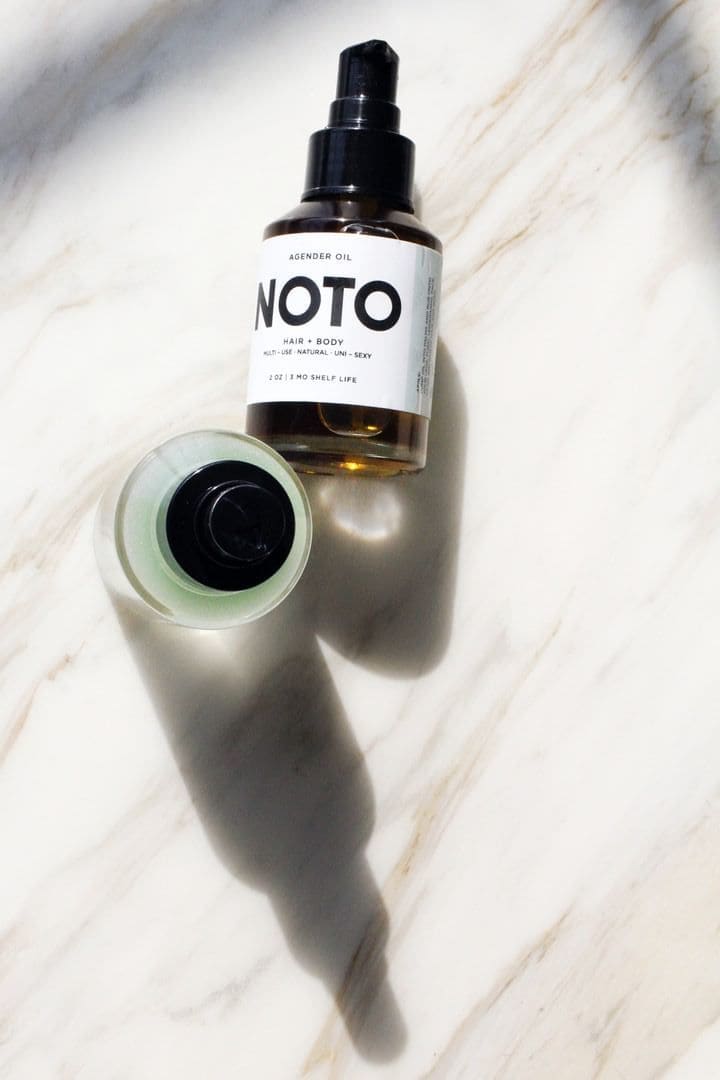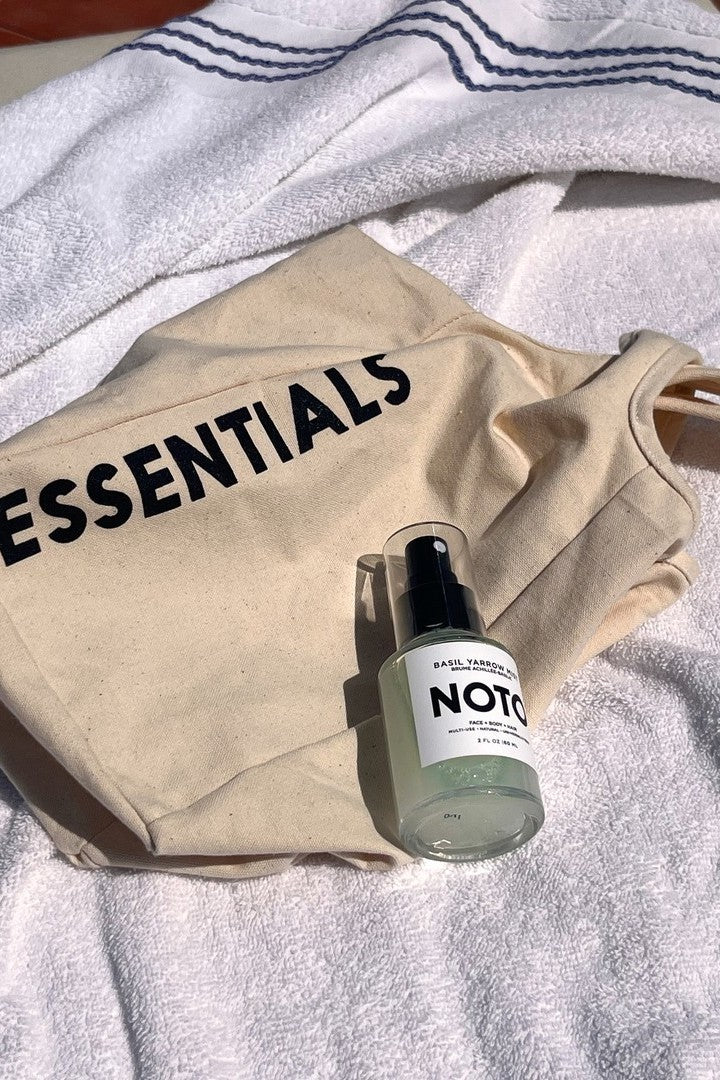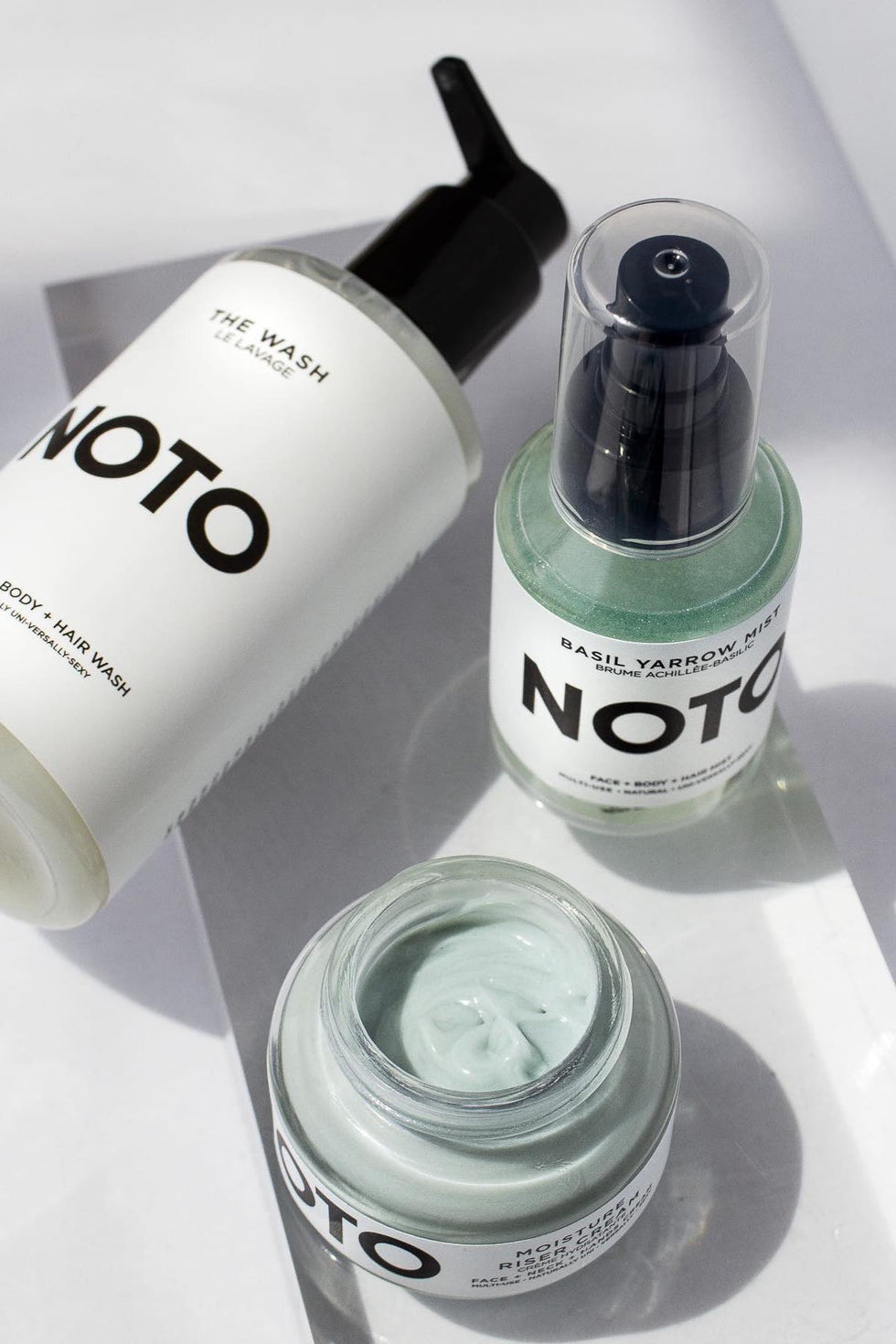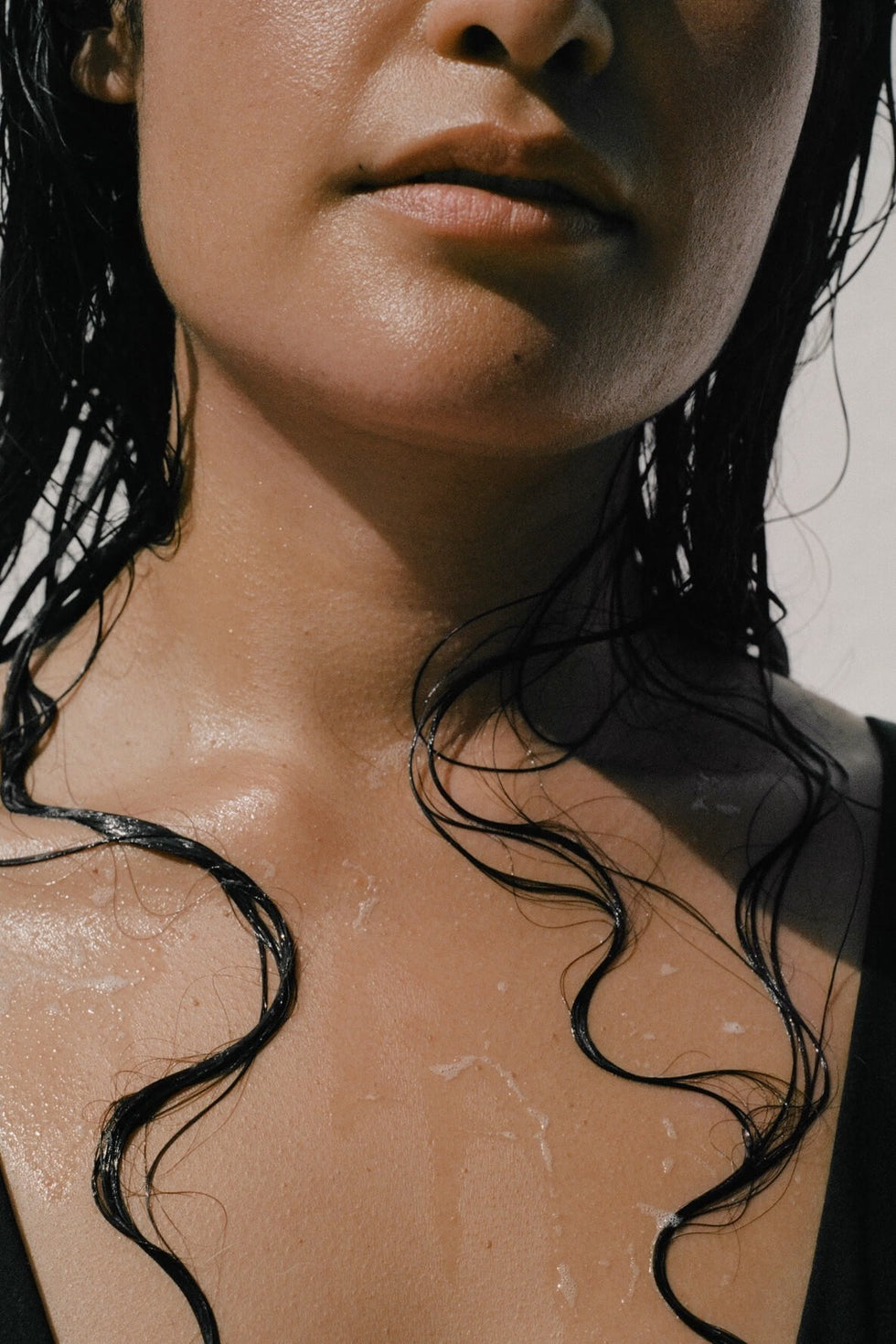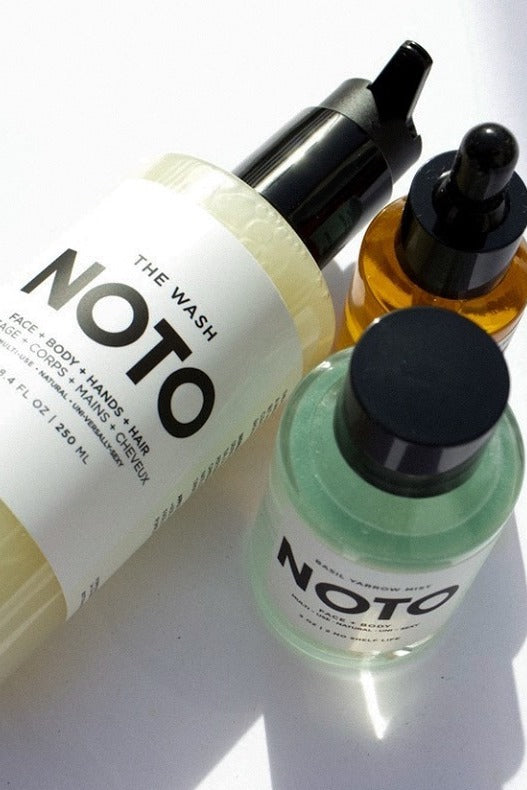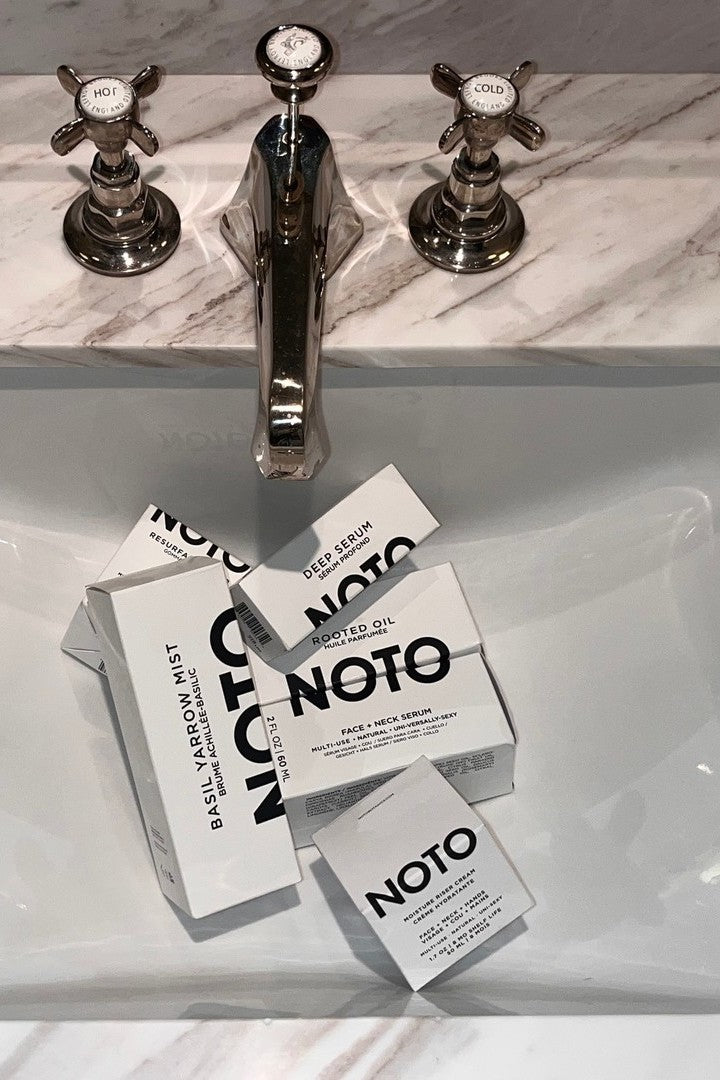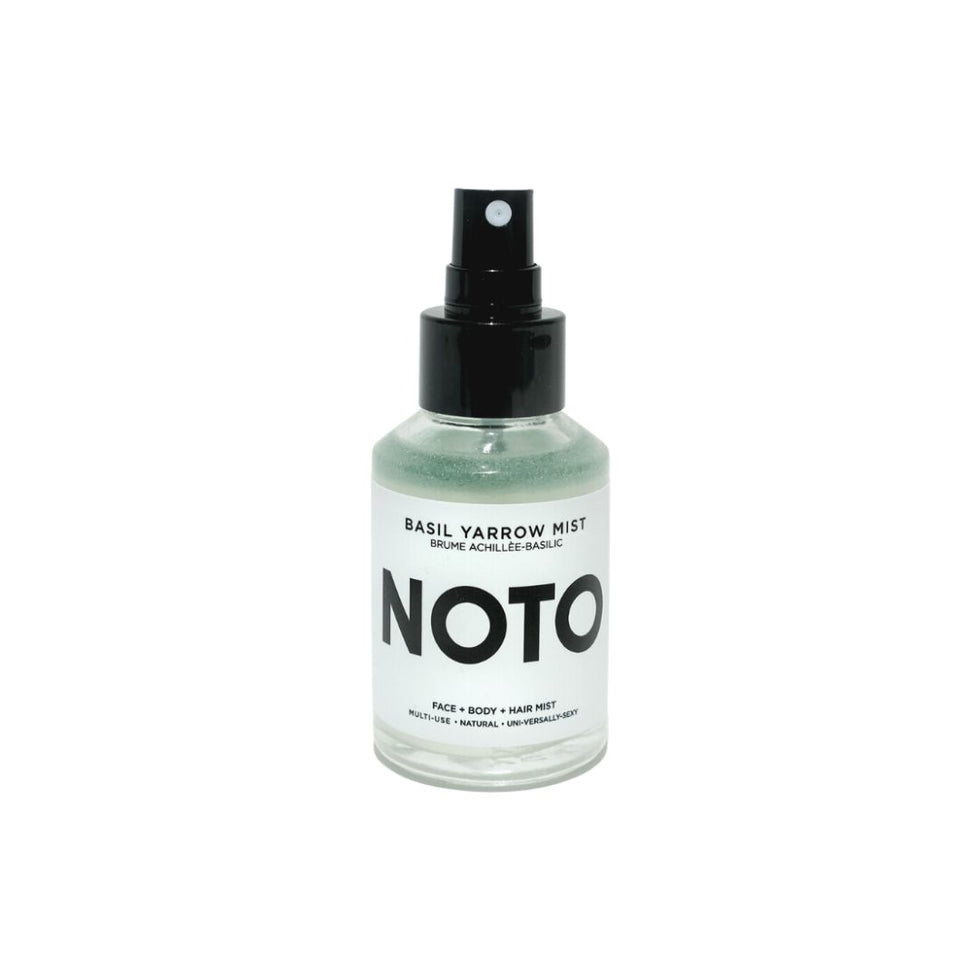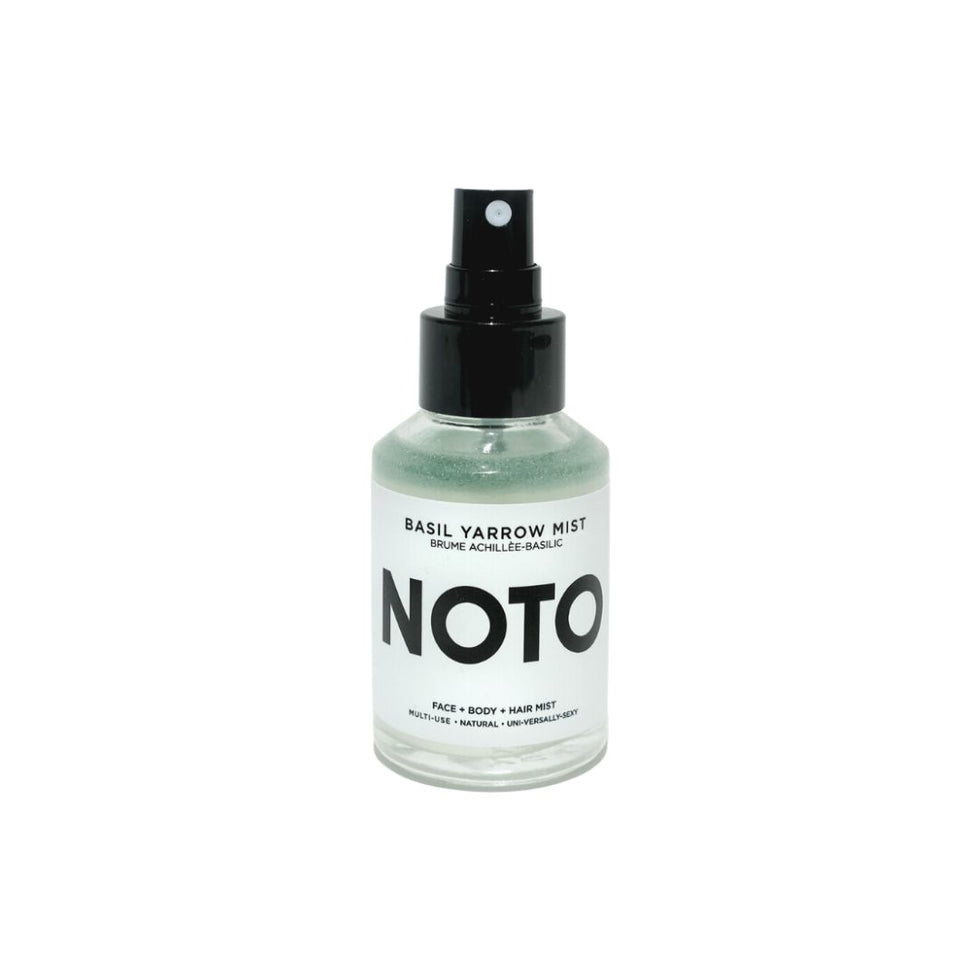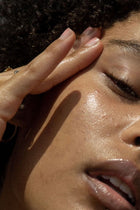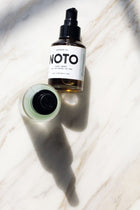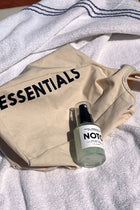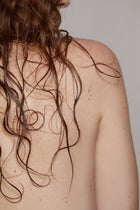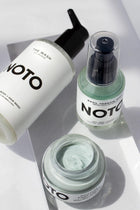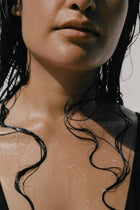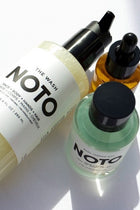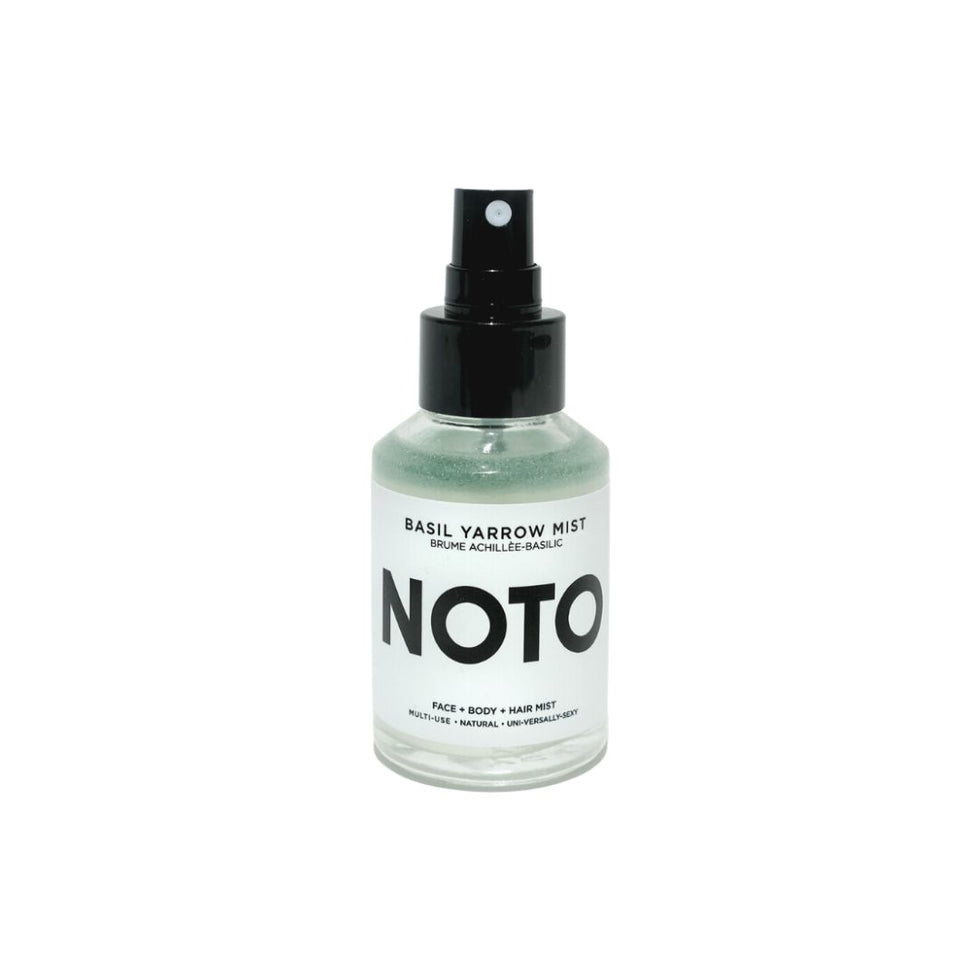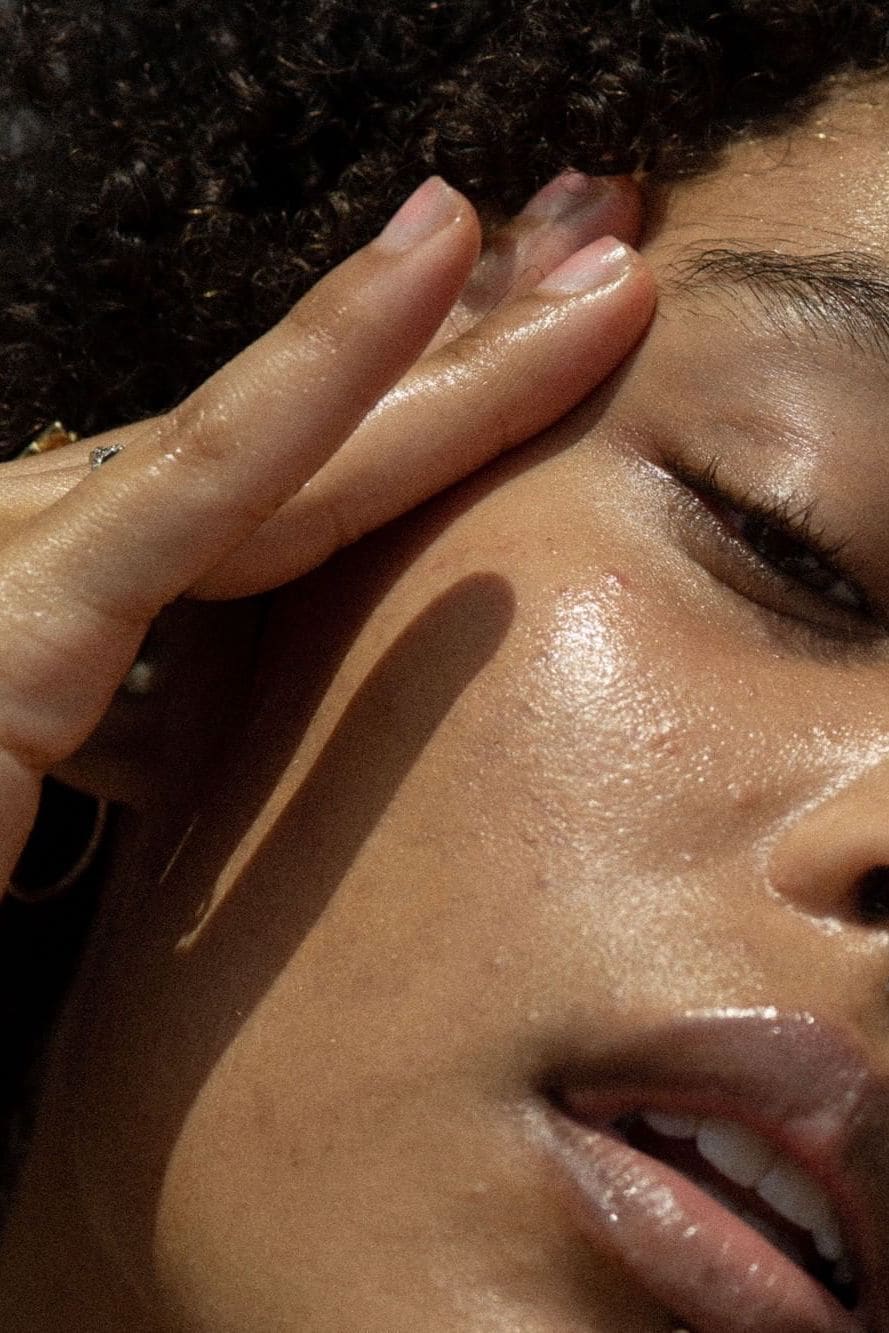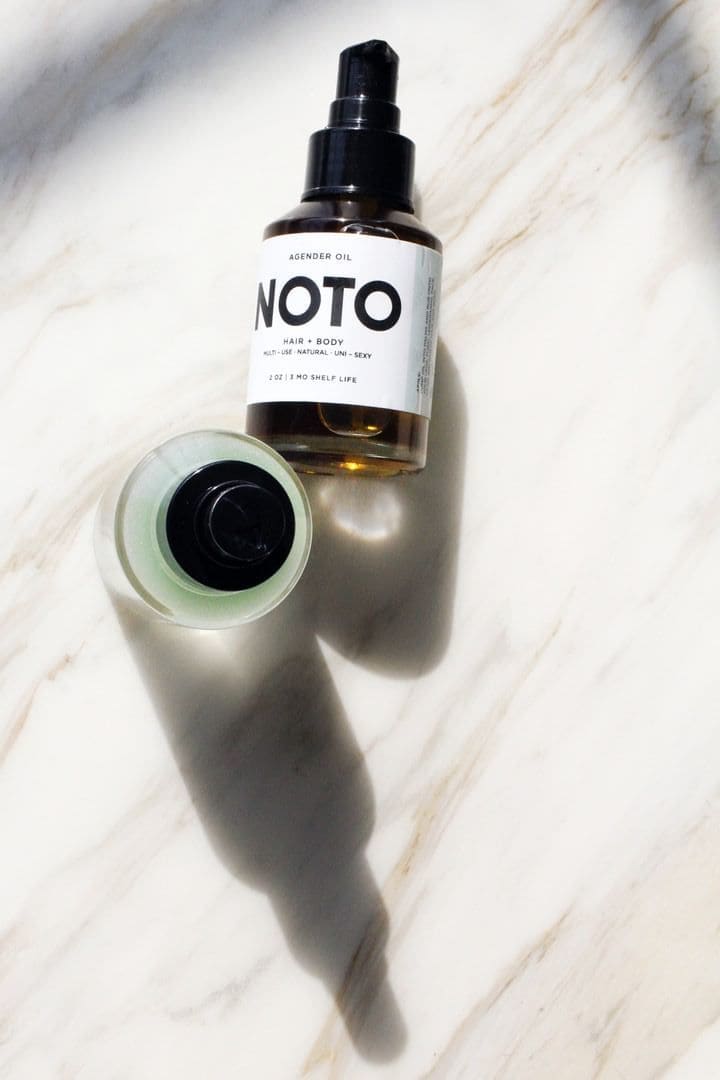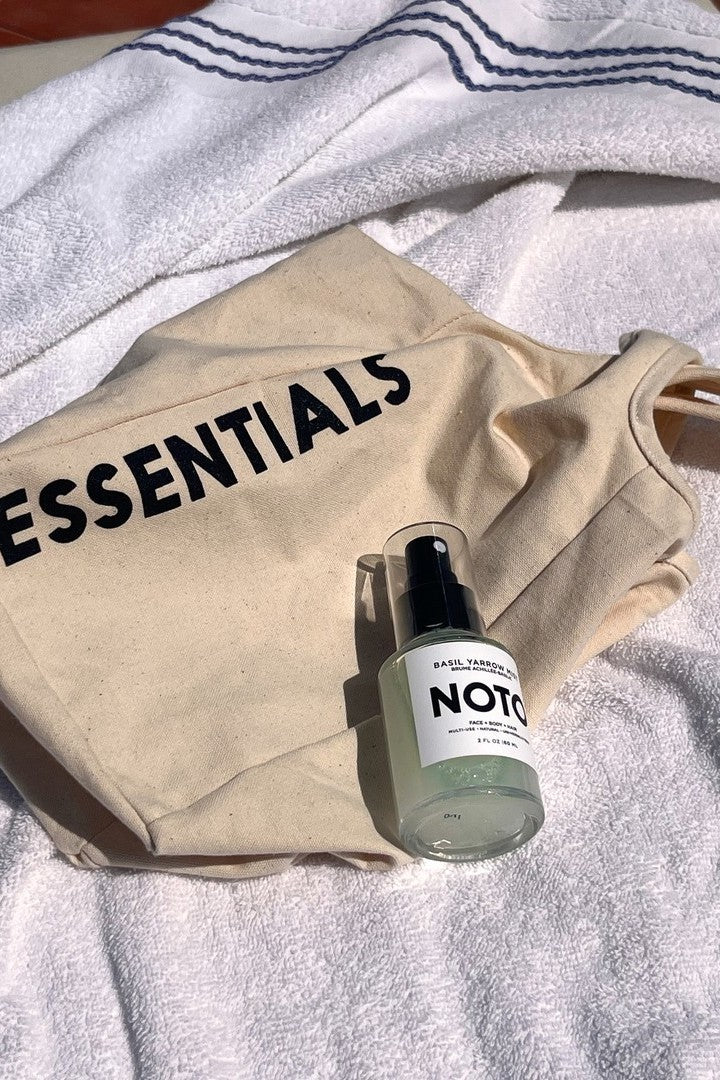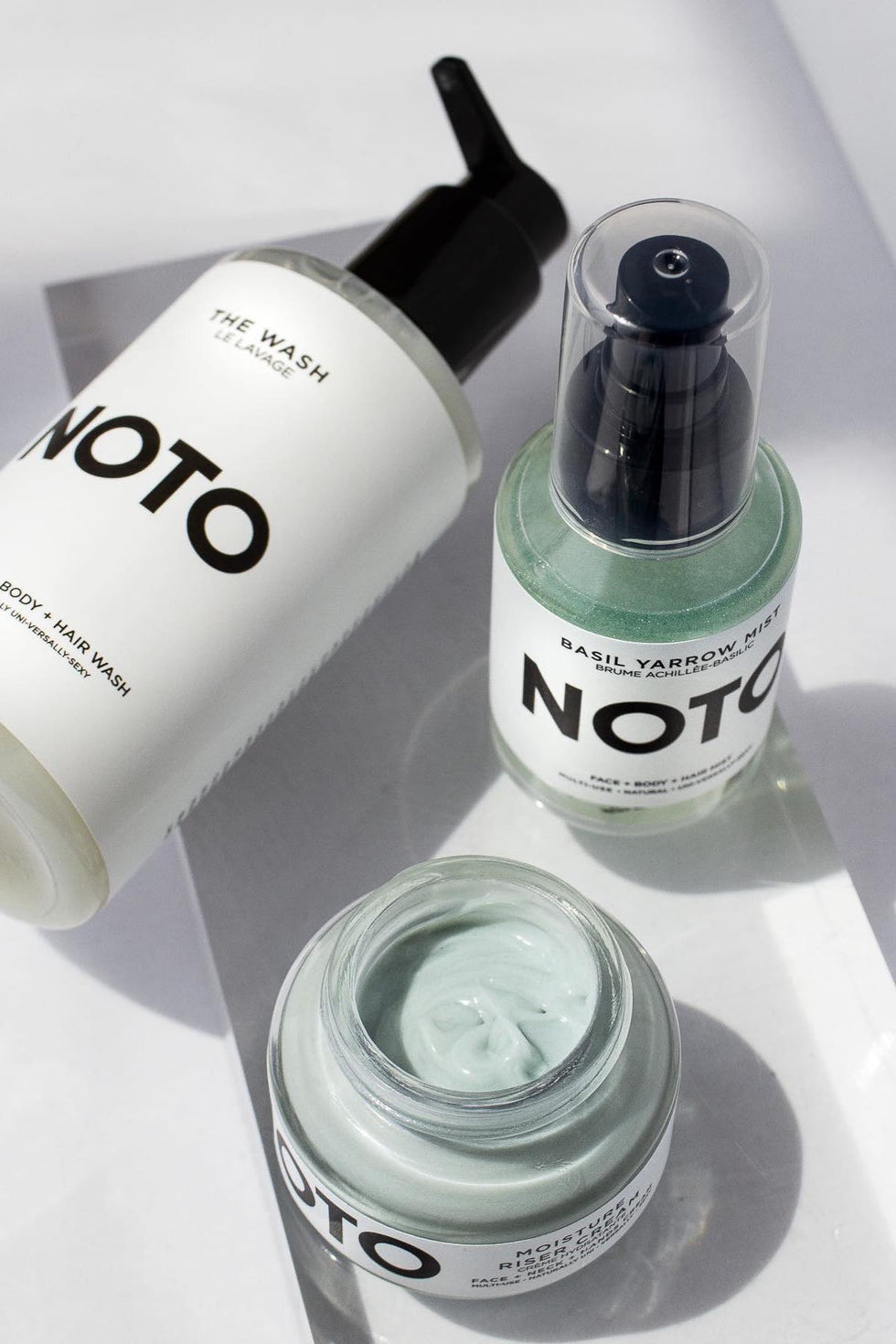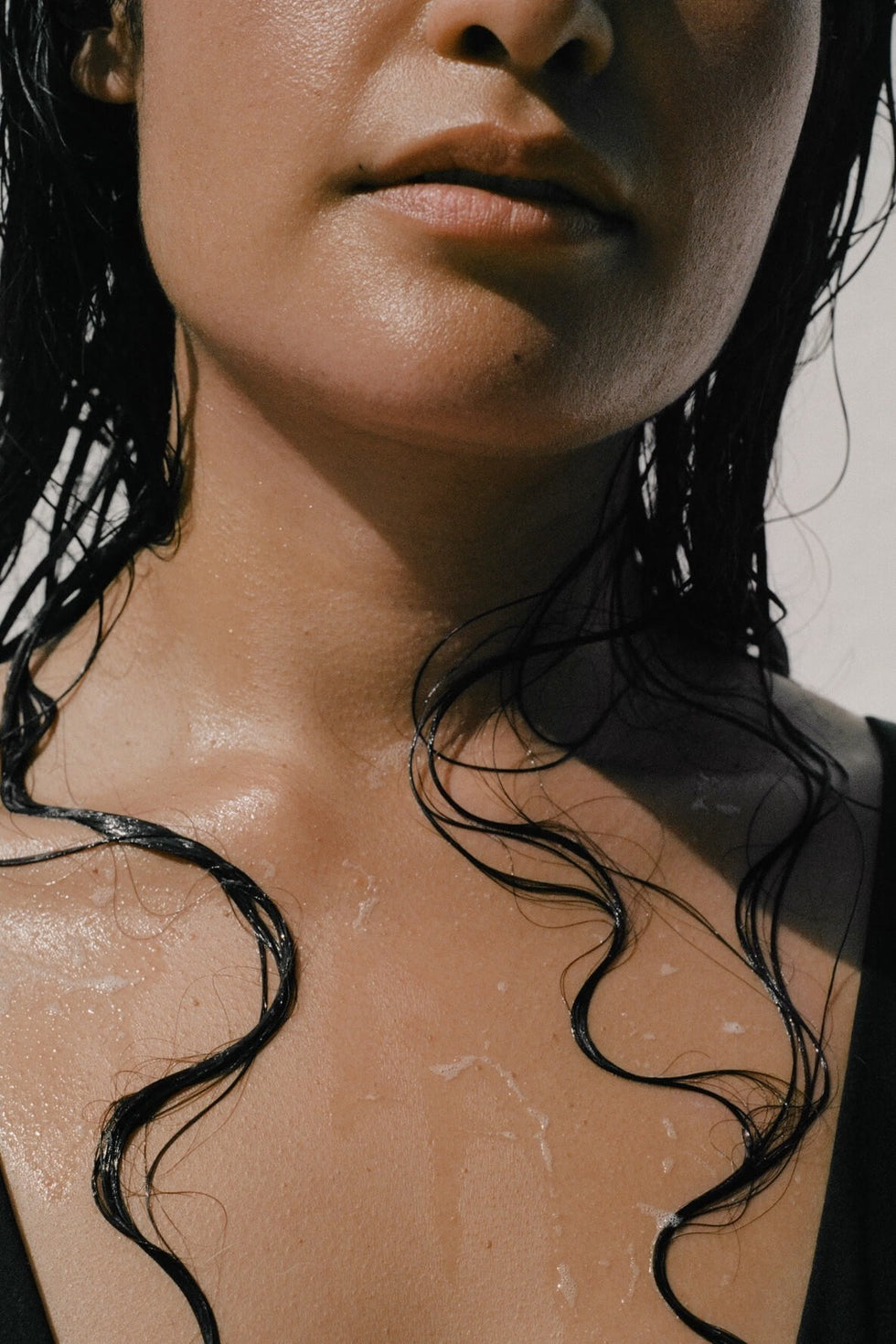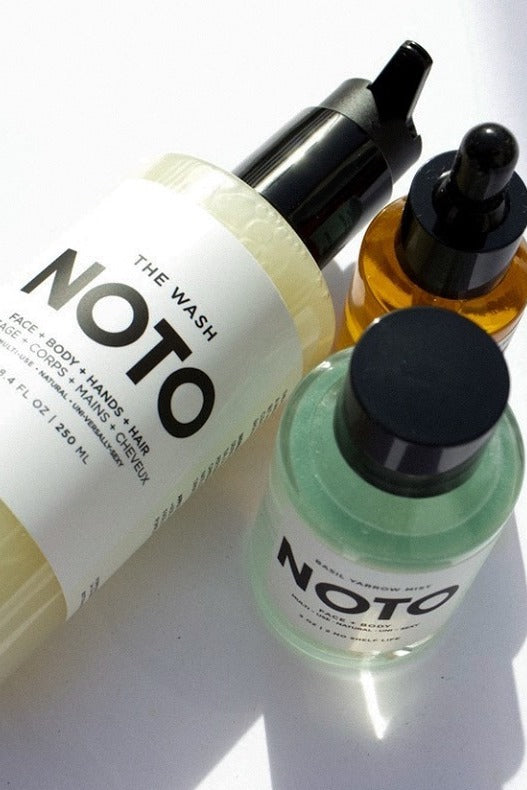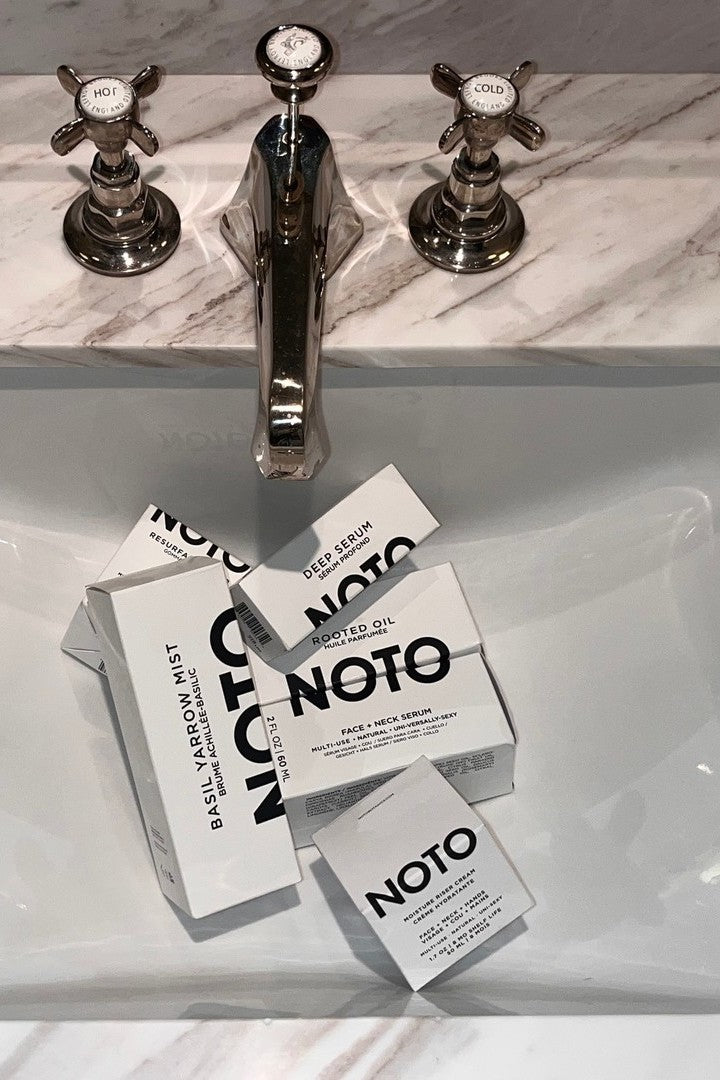 PRODUCT INFORMATION
SHIPPING, DELIVERY + RETURNS
SUSTAINABILITY + ETHOS
CUSTOMER REVIEWS
PRODUCT INFORMATION
NOTO botanics' basil yarrow mist is a super versatile multi-use gem. Use as a refreshing face or body spray. Put a few pumps onto a cotton pad as a toning cleanser to give your pores a balanced wash. Add a few mists to your hair for a sexy bed head. Use as a light, hydrating moisturizer... 
Oils soften your skin and hair, while rose water & witch hazel tone and balance. Plus, it's sweet, fresh basil smell is sooo good. With Ylang Ylang & chamomile. Feeling hot-hot-hot? Put your basil yarrow mist in the fridge to cool down even more. Is there anything this mist cannot do? 
NOTO BOTANICS CLEAN BEAUTY

Founder Gloria started NOTO after seeing the cocktail of chemicals, pollutants and fillers most cosmetics are made of while she was a make-up artist. NOTO botanics is all about multi-use, minimal, uni-sexy, inclusive beauty from natural & organic uncomplicated but high performing ingredients. Gloria's vegan, cruelty free & multifunctional products are your new go-to minimalistic beauty essentials. Not just a pretty face. 

NATURAL SKINCARE. Handmade in California.
---
Botanical, natural clean beauty
Cruelty free, never tested on animals 
Multifunctional, vegan apothecary
Volume 60ml (2oz)
Hero ingredients: Water (hydrating), Rose Water (calming, hydrating, balancing), Witch hazel (antiseptic, antibacterial, balancing), Sweet Basil essential oil (opens lung and nose passageways), German (blue) Chamomile (high azulene content, calming, anti-inflammatory, sebum restorative), Ylang Ylang oil (mood lifter, antiseptic, aphrodisiac), Yarrow extract (purifying, calming, wound healing), Lavender (calming) 
SHIPPING, DELIVERY + RETURNS
 FREE SHIPPING > €70 (nl), €75-180 (eu) + €300 (w)
 FAST DELIVERY order before 12 = send same day
SUSTAINABLE EVERYTHING slow jewelry + beauty
For all info on shipping, delivery + returns, click HERE
SUSTAINABILITY + ETHOS
WILD // FREE Rogue is all about handpicked girl power gorgeousness for the wild + free hearted. About choosing your own path, following dreams and staying wild. And self love, baby girl. Self love, first. But make it sustainable.
That's why we only curate indie brands that are sustainable. By using recycled and the best materials. By never-ever over-producing. And by always, always taking good care of the people who make your gorgeousness.
From the colorful glass ring we wear every day to our fave botanical dreamgirl perfume and vegan + non-toxic hot pink nail polish. Because sustainable doesn't have to be minimal. At Rogue, you'll find statement jewelry and the most effective skincare that also looks amazing on your nightstand. You can have it all.
Everything is from businesses that are run by fellow boss babes. Because when women support each other and follow their dreams, magical things happen.
So join our conscious girl power revolution and shop your favorite drop-dead gorgeous sustainable jewelry +  cruelty-free, vegan clean beauty. Buy less, choose well. Walk on the wild side. Support your girl gang. 
JOIN THE REVOLUTION // GO ROGUE
Read more about how we're sustainable here.
you might also love