3 DAYS IN SAN FRANCISCO, CALIFORNIA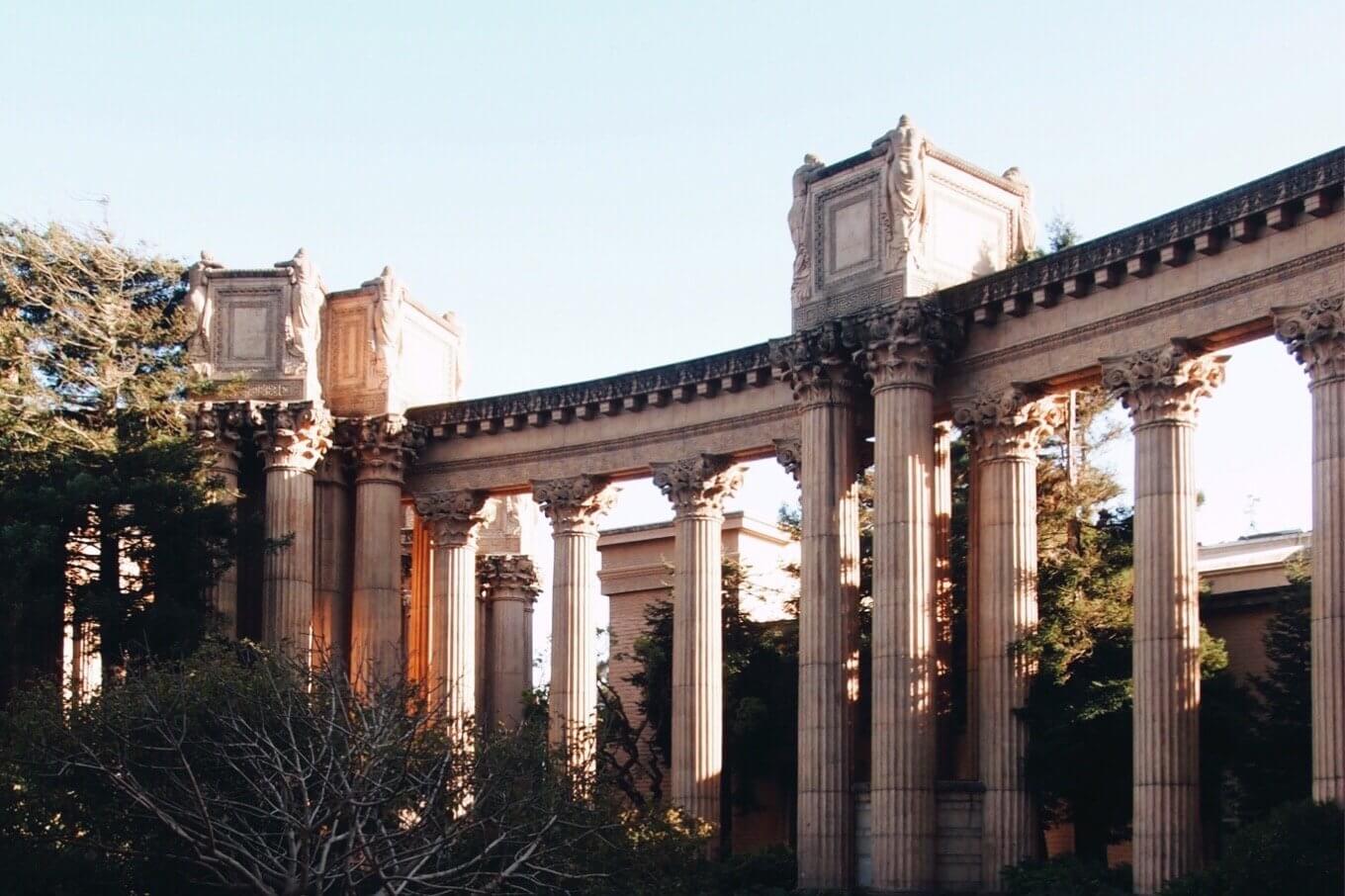 San Francisco is the city of liberal thinking, tech giants and of course, Full House. Everywhere you look (*sorry, not sorry), there's pretty Victorian pastel houses, people chilling in parks overlooking the city with their extremely happy dogs and cute indie shops fill the streets. San Francisco was build from a small town of only 200 to the wonder it is today during the gold rush that hit California in the 1850's. They used the typical American city grid-system, that is actually not too handy for hills, so get ready to walk up- and downhills loads. But don't sweat it. You're treated to wonderful views because of it, well... everywhere you go.  
DAY ONE
CASTRO + MISSION DISTRICTS & PARKS
Karl is someone to reckon with in San Francisco. Sometimes, he's there and the next moment, he's not. Sometimes, it's the other way around and sometimes, he's there the whole day. So when you wake up to sunny skies and Karl the fog is nowhere to be seen, that's your cue to go to the Golden Gate bridge. We're serious. Go. Now. 
After waking up at 4 with the biggest jetlag of my life, we waited until it was a decent time to take a shower in our cute boutique hotel, The Hayes Valley Inn. Karl the fog was present, so we decided to walk to Alamo Square Park, the home of the famous painted ladies I HAD to see right away. They are seriously cute and gorgeous and as an added bonus, the park beautifully overlooks downtown SF. Magical with a light whiff of Karl. Sit down for a second before walking from here to the Castro district.
On the way, you'll pass so many cute houses you won't even feel the need to take photos of all of them (except when there are cute cars parked in front of them, I mean you're not stupid). There are lots of bakeries and breakfast places too, so just sit down anywhere you like. The Castro district is the LGBTQ neighborhood of SF, though all of SF (and California) is luckily really open-minded. This is one of my favorite places in San Francisco. It's so colorful, fun, beautiful and filled with gorgeous houses and fun word-plays. Stroll around Castro street and stop at the Barbie-doll window that has rows and rows of dressed up Barbie and Billy dolls protesting for equal rights for everyone, before heading to the Mission. The future is equal, y'all. 
First up in the hip-and-happening artsy Mission district is Dolores Park. I'm not going to lie, it's a little walk uphill but the view is so worth it. I mean, pastel houses with downtown SF behind it, framed by palm trees. Come on, San Francisco. This is a perfect place to sit for a while so bring a snack or come back to watch the sunset. If you miss your dog like us, or are just in the mood for some puppy cuddles: This is the place to go. I got a few snuggles from one of the happiest labradoodle pups ever and all I had to do was make a few silly noises to grab his attention. Score. Nothing tops that, but you can at least try so head to Valencia Street for some fair-trade, organic, conscious, cruelty-free retail therapy, Mission style. Don't miss gorgeous Isalis and vintage wonderland Stuff SF, they rule big time. 
If you want some more action, take the bus to downtown. We walked. It's too far after all the walking you already did with that massive jetlag and it's not the nicest walk. Union Square is a cool place to see the modern downtown architecture and feel those big city concrete jungle vibes. Also, if you want to catch one of those famous cable cars, this is where they're at. 
DAY TWO
LOMBARD STREET + ALCATRAZ + PALACE OF FINE ARTS
Today, it's time for some truly iconic San Francisco action. First stop, famous Lombard Street. This really crooked street claims to be the most crooked street in the world, which is actually a few blocks away on Vermont. It's much prettier than the real deal though so walk up to Hyde Street and back down to Leavenworth Street for the full experience. It's très touristy, but still fun to see. And you already did a work-out before the day even really started. From here, you can walk to Pier 33 for your next stop: Alcatraz. 
Despite it being one of the most feared prisons, where no-one ever officially escaped from and you could literally see and hear normal life pass you by in the San Francisco bay, Alcatraz Island is actually a really beautiful, pleasant place that is definitely a lot pinker than I ever imagined. The audio tour that's included in the tickets you bought online, months in advanced if you had the chance, is filled with stories of days gone by told by old prisoners and guards. Plus, the architecture reminded me more of the French Riviera than an abandoned federal prison that once housed the nations most notorious criminals, including Al Capone. Side bonus: The views of San Francisco, the bay and the Golden Gate bridge are absolutely stunning. On return, stroll to nearby tourist trap Fisherman's Wharf to look at the sea lions. Then, take the bus or walk about 2,5 miles through pretty Chestnut Street to absolutely gorgeous Palace of Fine Arts. 
If I had to pick a favorite place in San Francisco, this would be it. More than that, it's made its way into my favorite places in the world. The Palace of Fine Arts was originally build for the 1915 Panama-Pacific Exposition in an absolutely beautiful Greco-Roman style. The lagoon in front of the massive structure that will take away your breath instantly, houses swans and turtles. It really doesn't get any better than this folks. Stroll around and around and around while you try to stay out of happy couples wedding photos. It's a magical place. The residential area around it is really gorgeous as well. And from here, it's only a few steps to Crissy Field, where you can enjoy the sunset while gazing at Golden Gate bridge. 
Crissy Field is an old US Army Airfield that is now open to the public and hosts a beautiful beach with stunning views of the ultimate SF landmark. I have to be honest, the Golden Gate bridge wasn't one of the things I looked forward to seeing a whole lot. A bridge is a bridge, am I right? Turns out, I'm not. Maybe it's the magical famousness that surrounds it or the absolutely stunning location between the Pacific Ocean and the bay, maybe it's Karl the fog himself. But I'm telling you, it's pretty. 
DAY THREE
CRUISING THE CITY + GOLDEN GATE BRIDGE
Early morning, we picked up our car downtown. It can be really busy, so be prepared to wait. We drove to Yosemite the same day, but used the first part of our day to go back to things we loved and visit some that were too far from public transport. Our first stop: Bernal Heights Park. If you can't get enough of San Francisco views, this is it. It's more of a hill than an actual park, but there's a swing on a tree with really gorgeous views of the city. Plus, you get to drive around the Mission & Castro area again. Only winners here, my friends. Next up: The Lion Street Steps. Park on top of the steps at the end of Broadway, or Billionaires Row. This is where the super wealthy Silicon Valley people live, so marvel at the architecture and gaze down the pretty steps at the bay and fabulous Palace of Fine Arts. While you're in the area, make a quick stop at the one-and-only, and ultimate SF, Full House house. The door has been painted, but it will still make you softly mumble 'everywhere you look', which is always a plus. It's on 1709 Broderick Street. 
Obviously, you're going to want to drive over the Golden Gate bridge. One: It's super cool to do & you're not in SF every day and two: the actual best views are on the other side of the bridge. Not only does the bridge look stunning and you can get quite close to it, but San Francisco is shining as the ultimate backdrop. Take the first exit after the very first viewing point, go left into a tunnel saying 'scenic view' and just follow the road to get to Battery Spencer. After a while, you'll have stunning views of the Golden Gate after almost every turn and we stopped a bunch of times.
So, this is it. Our top picks of things to do in San Francisco in just 3 days. There's so much more to explore but this is a seriously good way to see the city for the first time. We'll be back for sure. Want to know what we did next? Click here.