THE ULTIMATE CALIFORNIA ITINERARY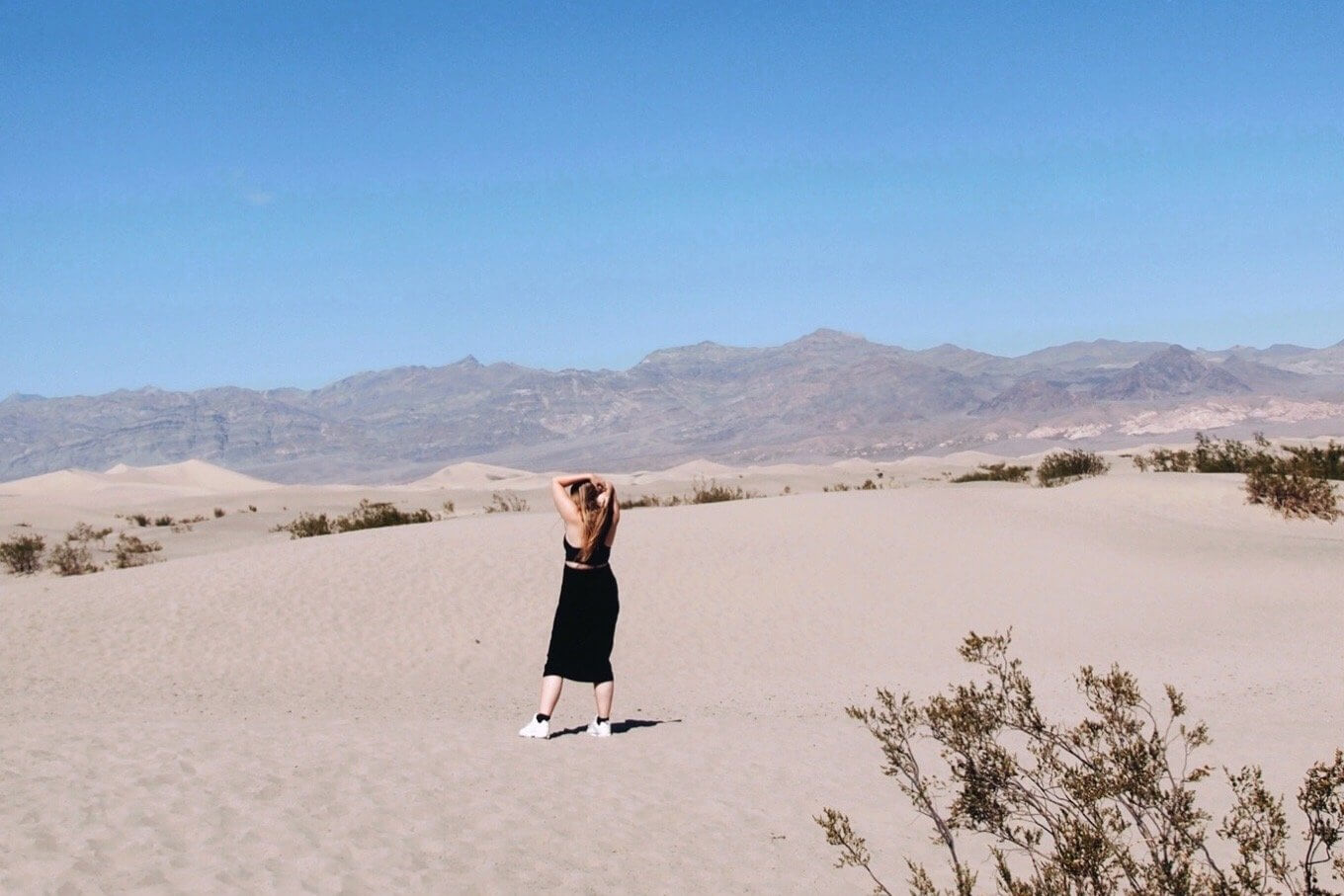 For months, I quietly mumbled California's official unofficial national anthem. 'All the leaves are brown. And the sky is grey. I'd be safe and warm. If I was in LA.' Yeah, California dreamin' I did indeed. IF you're going to San Francisco was WHEN you're going. And I was going. Soon. With flowers in my hair. You know the drill. 
After many & long (very, very long) Pinterest sprees on hotspots, must-sees, must-do's and must-eats we were off to the sunshine state herself. And oh, how the mamas and papas were so damn right. 
So are you thinking of packing those bags and traveling to the land of swaying palms, famous cities, breathtaking deserts and things-you've-seen-on-tv? 
Check out our ultimate California (and a bit of Nevada & Arizona) itinerary now. 
Sunset Boulevard, here you come. Oh, and Vegas baby! 
OUR ITINERARY
Since we flew in from Europe, we wanted to see literally EVERYTHING. We did make some difficult choices, but managed to pack a lot into our 3,5 weeks.
This is our route:
San Francisco - Yosemite - Death Valley - Las Vegas - Grand Canyon - Palm Springs - Joshua Tree - Los Angeles - Ojai - Hearst Castle - Big Sur - San Francisco. 
Driving a rental car is the way to go here, as you cannot get to a lot of the national parks any other way. We picked ours up in the centre of San Francisco just before we drove to Yosemite since you don't need it in the city and it saves you money on the rental and parking. San Francisco is expensive enough, so do yourself a favor and put that money to good use otherwise. Like paying 10 dollars for 2 waters and a can of Pringles. You know we did. Our middle sized car cost about 500 dollars for a little under 3 weeks. 
SAN FRANCISCO
San Francisco is the city of liberal thinking, tech giants and well, Full House. Everywhere you look (*sorry, not sorry), there's pretty Victorian pastel houses. People are chilling in parks overlooking the city with their extremely happy dogs and cute indie shops fill the streets. San Francisco was build from a small town of only 200 to the wonder it is today during the gold rush that hit California in the 1850's. They used the typical American city grid-system, that is actually not too handy for hills, so get ready to walk up- and downhills loads. But don't sweat it. You're treated to wonderful views because of it, well... everywhere you look. 
San Francisco is packed with famous must-see's. For starters, there's stunning superstar the Golden Gate Bridge, that's magical when Karl the fog hides it just that tiny bit. Then there's Alcatraz. The abandoned federal prison that once housed the most notorious criminals, including Al Capone, is actually surprisingly pleasant and pink. And of course, you're not going to want to miss out on crooked Lombard Street and the Victorian pastel-colored painted ladies. Want to know everything we did in San Fran? Click here. 
But San Francisco is more than famousness. The Castro and Mission districts are beautiful, fun, artsy neighborhoods to wander and my favorite SF star, the Palace of Fine Arts, is just breathtaking. We spend three days in San Francisco, but could have easily stayed longer. Or moved there.   
YOSEMITE
It's about a three to four hour drive from San Francisco to Mariposa, the cute gateway to mighty Yosemite National Park. The town feels a little like a Disneyland main street with cute stores and restaurants in frontier style wooden houses that breath the gold rush era. Spend the night here and rise and shine early in the morning for a long day of Yosemite highlights. The distances in the park are quite long, so we decided to drive from one side to the other and book a hotel in Independence for the next night. It's a 4,5 hour drive on paper, but it will take you the whole day with all the sightseeing you'll be doing. If you're into hiking or if the weather's nice enough to swim in the gorgeous lakes, you should definitely stay more nights. 
First Yosemite must-stop is Mariposa Grove, home of the friendly giants. These drop-dead gorgeous huge Sequoia trees are truly breathtaking. Hike past all famous redwoods in this magical forest and feel tiny. Some of them, like the Grizzly Giant, are about 2700 years old, which means he was already hundreds of years old when Cleopatra ruled ancient Egypt. Insane. After you say goodbye, drive to Glacier Point, where you have an absolutely beautiful view of famous Yosemite Valley with stunning Half Dome as the star. We were there in September, so all waterfalls were unfortunately dry, but it's still a sight for sore eyes. After, get a different perspective at Tunnel View and drive around the forest filled valley for a fairytale feeling. Then, take Tioga road (that's closed in winter, so check in advance) north to Olmsted Point. Not half as famous, but my personal favorite. Stop at insanely pretty Tenaya Lake after for some kayaking or sunbathing. 
DEATH VALLEY
The ultimate road trip continues today. High mountains are slowly replaced by desert wilderness while you drive south. Stop in Lone Pine, the Wild Wild West feeling gateway town to Mount Whitney, to wander around a bit and have some breakfast before diving into the boiling dream of Death Valley National Park. Welcome to the Twilight Zone. Death Valley has been the backdrop for some of the world's most famous movies that needed vast amounts of surreally beautiful nothingness, including Spartacus, Star Wars and you guessed it: The Twilight Zone. May the force be with you. Take a quick look at the Father Crowley Vista Point to get a sense of the environment and heat, then go get that cold drink at Panamint Springs.
We've been to some seriously hot places, but Death Valley really is scorching. And the wind. Oh, the wind. A blowdryer is a breath of fresh air. In a galaxy far, far away, I witnessed with my own eyes how a really tough looking cool guy got out of his car, said 'oh boy' and got right back in. I mean, that's some serious shit. Your favorite friend, the airco in your rental, is not an option either since overheating is a real thing here for your car too. So you'll likely spend a significant amount of time hiding in the shadow of anything you can possible find. An-y-ways, Death Valley has the best views though. Drive to the Mesquite Flat Sand Dunes for some cute dunes and all those desert feels before heading to my personal favorite, ghost town Rhyolite. In it's glory days during the gold rush, about 4000 luck-finders lived here. The town even had its own stock exchange and a public swimming pool. Now, only a few cool buildings remain, but the vibe of what once was is still there. After, drive to Beatty to chat with some locals while enjoying a good pizza at typical American hang-out the Sourdough Saloon.  
Start your day off having breakfast in town, prices in Death Valley are a little overwhelming. Head to Badwater Basin, the lowest point in the US of A and the hottest place on earth. It's a beautiful salt-pan that stretches out much further than you should be walking. After, drive to Devil's Golf Course for a hauntingly pretty desert view and then on to mesmerizing Artist Drive. This curvy, dipping road leads you through mountains with all colors of the rainbow that's particularly pretty for all you crystal lovers out there. The best part? You can drive it as many times as you like. Get that well-deserved drink at the palm dotted oasis of Furnace Creek before taking in the views at Zabriskie Point and driving off to Vegas, baby.  
VEGAS, BABY
It's about a two hours drive to Sin City herself. We stayed at Circus Circus, one of the cheaper options on the strip. It's fun, it's kitsch and the huge clowns didn't scare me too much so that was a big plus. There's even a water park and an indoor amusement park with rollercoasters that shake up the whole building. Literally. Plus, it's only a short though expensive bus ride to the hustle and bustle of the coolest part of the strip. 
Get off that bus at Treasure Island and walk past all the marvelously over the top hotels. Caesars Palace takes you to the Ancient Rome, the Luxor to ancient Egypt while Paris and New York, New York take you, well... there. We enjoyed a slightly though Vegas romantic moment watching the sunset from a cute bench overlooking the Venice canals and their surprisingly talented singing gondoliers. It's a blast seeing all these world wonders build in one show-stopping place. There's the Colosseum, The Empire State building, the Eiffel tower, the Sphinx, the Trevi fountain, the Winged Victory statue of goddess Nike and so much more. My favorite thing though, we're the doorhandles. A circus tent for Circus Circus, the Statue of Liberty torch for New York, New York... It's all in the details, am I right? 
The next morning, make your way to my fave thing to do: the fab Las Vegas Neon Museum. We went Vegas-early and had the place almost to ourselves. As the name might give away, this is where neon signs go to retire. It's located in the coolest mid-century building that once was the La Concha Motel and so many drop-dead gorgeous signs are packed in their beautiful boneyard. The Stardust, The Aladdin, the Riviera, the Moulin Rouge and my all-time favorite that I wish I had at home: The Sahara. Seriously. I'd buy that. 
After, take a stroll at downtown Fremont Street, have a drink at legend The Golden Nugget and check out boutiques at 'in vogue' container park before heading back to the strip to see everything in action during the day. For an all-American dinner, go to hip-and-happening fast-food galore Shake Shack at New York, New York. This burger joint from, you guessed it, New York has the best portobello burger. We're getting hungry just thinking about it. At night, go see a show or maybe even take a walk on the wild side and gamble a bit. May the odds be ever in you favor. But remember, the house always wins. 
GRAND CANYON
When planning this trip, we though long and hard about whether we wanted to do the 4,5 hour drive to, and 6,5 hour drive from Grand Canyon or just drive to sunny Palm Springs from Las Vegas in 4 hours. It's ALMOST like driving right past it, if right past it was 7 hours away. But it's number 6 on the Lonely Planet ultimate top 500 travel list and we're total suckers so as always, our curiosity won.
Need-less-to-say we got up really, really early, picked up a bagel at one of the many Vegas' Starbucks and started driving. You pass the Hoover Dam fairly quick but don't really feel like you've got the time to stop. After that, it's just really long stretches of beautiful Mars-like landscape that an actual Mars-bar would melt in immediately. I know, we tried. I can't lie, it feels a little heartbreaking when you pass your Seligman motel after about three hours and know you'll have to drive to the Grand Canyon and back there because you wanted to break up that 6,5 hour drive for tomorrow. But eventually, you'll get there. We pinky swear.
We chose the Grand Canyon South Rim because the West Rim got a lot of bad reviews, my friends dad thought he saw a ghost there in the middle of the night and we wanted to do it right. I worked at a haunted hotel once, and I'm not ready to relive that experience any time soon. When you eventually do get there, it's quite a lovely little stroll to the actual edge of the canyon. Now, I must say that I am not a big fan of standing on edges, nor watching people stand too close to edges. It just creeps me out. And for good reason. About every two months, someone falls off. Dads that are trying to scare their 4-year old daughters, actual 4-year olds daughters. It's a little haunting. So please kids, don't imitate Superman while standing on a tiny rock sticking a few meters out. It's very uncool. There's a few places that have fences though, so that's where you'll find realistic losers like me.
The views really are amazing. The canyon is, well, grand. It's deep, it has beautiful red colors, you can never see the end at all sides and there's the tiny huge Colorado river on the bottom. It's like watching the most gorgeous sunset. But that being said, it would never make it to my top list of anything (*goes to hide in the basement). I know a lot of people are going to be angry, but it really is and always will be a big hole you're looking in and get used to quite fast. I spend quite a while watching a squirrel eat before realizing I should still be looking the other way 'cause I can see squirrels at home. Maybe it's my fear of standing on edges talking though, who knows. 
ROUTE 66
A pleasant surprise that we weirdly didn't think about, is that that motel in Seligman you drove past earlier, is actually in a really cute Route 66 town. In fact, it's the birthplace of historic Route 66 since the people of Seligman convinced the State of Arizona they should make Route 66 a historic highway in 1987. We grabbed dinner at all-American Lilo's Cafe. As a Vegetarian, Arizona is just not the place for you. But despite that, this local hangout with a few tourist you immediately recognize as such is really cool. The food is good and you get plenty of it. Pro tip: Don't order tomato soup if you're not into cheese ravioli with tomato sauce. But hey, I obviously am and it was marvelous. The rest of the town has some very cool vintage neon signs, vintage cars & vintage murals to be checked out and numerous Route 66 gift shops to be avoided. It has that classic Disney main street vibe, but it works. Stay the night at one of the many motels. 
The next day, you are suddenly happy you did all that extra driving yesterday. The drive to stunning Palm Springs is now 'only' 5 hours. Easy-peasy, lemon squeezy. Since we suffer from a serious case of FOMO at the worst of times, we decided to take Route 66 instead of the actual highway. Fortunately, it was a good gamble. The stretch of Route 66 between Seligman and Needles is supposed to be one of the most beautiful parts of the endless highway that connects Los Angeles and Chicago. After some fairly boring miles, you pass Kingston. That's where the fun begins.
The Mother Road now takes you into the mountains and hosts one spectacular view after the other. We stopped at the two cutest old men that told me all about how they collect crystals by simply picking them up from the ground. Crystal heaven. Another cute surprise is frontier style old gold-miners town Oatman. We're not going to lie, it's a tourist trap, but a cute tourist trap none-the-less. Mainly because there's an enormous outdoor crystal shop and because the streets are completely filled with wild donkeys. Now if there's one thing I love, it's baby donkeys. And there are plenty of them. After Oatman, it's a pretty drive to Needles where you leave Route 66 behind and take the modern-day highway to mid-century modern walhalla Palm Springs.   
PALM SPRINGS
Sun-kissed Palm Springs is the desert home to countless mid century modern architectural stunners, insanely cool boutique hotels and the cutest indie vintage shops. It's no wonder it's made a recent Hollywood playground comeback after Frank Sinatra and Judy Garland's Rat Pack roamed the streets in the fifties and sixties. Get ready for a well-deserved pool day, brightly colored front doors and a little bit of stardust in this drop-dead gorgeous palm dotted oasis. We stayed for four nights since we wanted to include a little haven of rest into our road trip.  
If you're anything like us, you L-O-V-E everything mid century modern. Palm Springs is the ultimate capitol of either famous houses designed by architectural masterminds, stunning houses made famous by its starry residents or a combination of the two. At the south end of Palm Canyon Drive, near the absolutely fabulous Ace Hotel, is the real deal when it comes to those pink doors you've been looking for. That pink door included. Don't miss Richard Neutra's stunning Kaufmann House and ultimate beauty Elvis & Pricilla's Honeymoon Hideaway though. And while you're in the neighborhood, pop by the lovely little Moorten Botanical Garden.
Not just Palm Springs is absolutely amazing though, the surroundings are too. So be sure to cruise around the valley. They see you rollin', they hatin'. Go on ultimate cactus and agave safari at Joshua Tree national park, marvel at Thousand Palms Oasis at the Coachella Valley Preserve and have some all-American fun at the ultimate of ultimate iconic roadside attractions: the Cabazon Dinosaurs. If you like thrifting, stop at a few Angels View thrift stores that dot the valley. Want to know everything we were up to in Palm Springs? Click here. 
LOS ANGELES
It's time to hit the birthplace of so-many-things-cool: Los Angeles. LA is the total embodiment of that American stardust, but there's more to her. She has so many gorgeous areas, crush-worthy architecture and truly iconic attractions that it's hard not to be starstruck by her beauty. So get ready for some LA action, Mia and Sebastian style. La la land, here you come. 
First up is Venice beach. Spot that classic American lifeguard tower, run in dramatic Baywatch slow-motion along the coastline and head up the small pier to check out some local surf-dude hotties 'work it'. For equally cool guys, go to the skatepark to marvel at tricks that will cost you a tooth if tried at home. For some more laidback action, take a stroll along the famous Venice canals and iconic Venice sign before making it to Abbott Kinney boulevard. Filled with indie boutiques, gorgeous murals and hip-and-happening bars, this is the place to be. 
Spend as little time as you possibly can on the Hollywood walk of fame before heading to posh Beverley Hills cruising down legendary Sunset Boulevard. Wander 90210's Rodeo Drive to look at cool architecture and even cooler cars driven mostly by not-so-cool old-aged white men, then drive around the area to marvel at those legendary drop-dead gorgeous streets lined with the tallest palms while pretending to be Brandon or Kelly. Now make your way to Frank Lloyd Wrights Hollyhock House to lounge in its park taking in show-stopping views of the city, the Hollywood sign and wonderful Griffith Observatory. Bonus points: there are loads of willing dogs around for you to cuddle. 
Don't forget to hit DTLA. Start at the fabulous Ace Hotel rooftop bar with stunning views of LA and beyond before walking along legendary vintage movie palace dotted Broadway to make your way to The Broad for that highly instagrammable infinity mirror room. Head to hipster hang-out Grand Central Market for an Egg Slut sandwich and get your Mia and Sebastian on at true La la land classic Angel's Flight before cruising Mulholland drive through the Hollywood Hills past million-dollar homes and billion-dollar views to get to the Getty Center's Pinterest perfect curvy architecture and fabulous art including Vincent van Gogh's Irises. After all that, drive down to fab West Hollywood to get that perfect Shake Shack portobello burger. God, I miss those.
Next day, feel like you're in a '90's tv-show once again while walking along legendary Melrose Avenue having birthday cake-dough truffles at fave Milk Bar. Then, drive to out-of-this-world gateway-to-the-cosmos Griffith Observatory for moonchild star-gazing and sweeping views starring (get it?) DTLA and the Hollywood sign. See planets, eclipses and moon phases, watch the earth turn and have another Mia & Sebastian moment at the Tesla coil. Get there when it's still light to see the city turn orange, pink and finally black with millions of twinkling lights. Yes, twinkling. Told you it's wild. Don't forget to go to a planetarium show to 1. learn a great deal, 2. marvel at the cosmos and 3. have the perfect Big Bang theory moment. I'm Dr. Rajesh Koothrappali, thank you for taking a walk with me... through the stars. 
HIGHWAY ONE
After all that LA action, the time has come for the ultimate California road trip: The coastal highways from Los Angeles all the way to San Francisco. Don't worry, there's enough awesome stops along the way to keep you entertained. Not far from LA is the birthplace of our favorite Rowsie Vain botanical skincare, sweeping Ojai valley. Who knew you could drive all the way from LA to Tuscany in under two hours. Citrus orchards and vineyard-lined hills take you to seriously cute Ojai city, where organic food and natural clean beauty are mainstream and everything is produced locally. We met Rowsie Vain's absolutely wonderful Whitney here, but you can go wine-tasting instead. 
The next day, drive north to fab Santa Barbara. If you're anything like us, driving El Camino Real or the king's highway, north means getting reminded of Jon Snow a lot. Now, I personally like getting reminded of Jon Snow, but try not to use his signature accent saying 'to the north' if you're trying to avoid it. Santa Barbara is a complete dream. It's extremely pretty, unbelievable laidback and super easy to fall head over heels in love with. Kinda like Jon Snow. Grab a coffee at Dune's before walking along the oh so gorgeous main roads filled with cute shops and cuter markets. There's cute people too. After, make a stop at student town San Louis Obispo for those California surfer vibes, a bite at the fabulous pink pink pink Madonna Inn and an all-American movie at the Sunset drive-in. 
Now if you think there's no wildlife to spot in sunny California, think again. Enter extravagant hilltop mansion Hearst Castle. Back in the days, from the roaring 20's to the fabulous fifties, media tycoon William Hearst build a lavish, larger-than-life dream world overlooking the Pacific Ocean to entertain his many, many famous guests like Walt Disney and Charlie Chaplin. He bought thousands of original, century-old European art pieces for WWI low prices on his travels and had ahead-of-her-time female architect Julia Morgan build equally grand villa's to house them. Ultimate Hearst Castle show-stopper is the absolutely mind-blowing Neptune pool with ancient Roman temple and matching lights that I now want at home. For a whopping amount, you can swim in it but unfortunately we spend all of our money on food. 
Next to ALL-THAT, he had the biggest private zoo in the world. Due to financial difficulties, animals had to be sold but many were set free to roam the mansions estate. So if you're lucky like us, you can still see zebra's and their cute baby's run wild. That wasn't the only entertainment though. Hearst would show movies in his own theater every night, also inviting staff to watch along. The first come, first serve rule often had his staff in the front seats next to him while his famous guests sat in the back. Pretty sure I found the perfect hide-away for when the zombie-apocalypse strikes. 
BIG SUR
About 1,5 hours (*to the north) of wild Hearst Castle is outrageously gorgeous Big Sur. Once again, it's a completely different world than the one you just came from and once again, you'll be all love-struck. Highway one will serve up one fantastic coastal view after the other, so just get out of your car safely whenever you feel like it. It's going to be a lot. Make sure to stop at THAT Lonely Planet cover-shot McWay Falls though for the ultimate of ultimate Big Sur views of a waterfall crashing right onto the sand of the most beautiful secluded beach. Head to purple-sanded Pfeiffer Beach next to watch the waves crash into gorgeous arched rocks and eat your packed lunch on the beach. Big Sur is pricy, so come prepared if you're not ready to splurge. After, continue to stop at all the spectacular views before having that classic Nicole Kidman, Zoë Kravitz picking-up-the-kids-from-school Big Little Lies moment at the fab Bixby bridge that is nowhere near a school what-so-ever. It is outrageously beautiful though, and that's what counts. Did you ever want it? Did you want it bad? Ohhh, my, it tears me apart.
From the Bixby bridge, it's about a 20-minute drive to posh Carmel by the Sea & neighbouring Monterey. If you can find a place to stay in Carmel within your budget, please do. The town is much cuter than Monterey, has the most beautiful little bay area and a french-vibing city centre filled with posh shops and coffee places. Now go get that last American cookie before heading home. 
So in just over 3 weeks, you've seen it all. From alien desert landscapes to the highest swaying palms. From millions of twinkling lights to crashing waves. From good-looking people to running wild baby zebra's. From fake Italian canals in Vegas to fake Italian canals in Los Angeles. River deep, mountain high, valley low. These country roads will take you to unforgettable places you'll already miss when you're driving to the next and want to get back to as soon as possible.
California dreamin'. On every single day.