GIRL-CRUSH ON... ILLUSTRATOR ISABELLE FELIU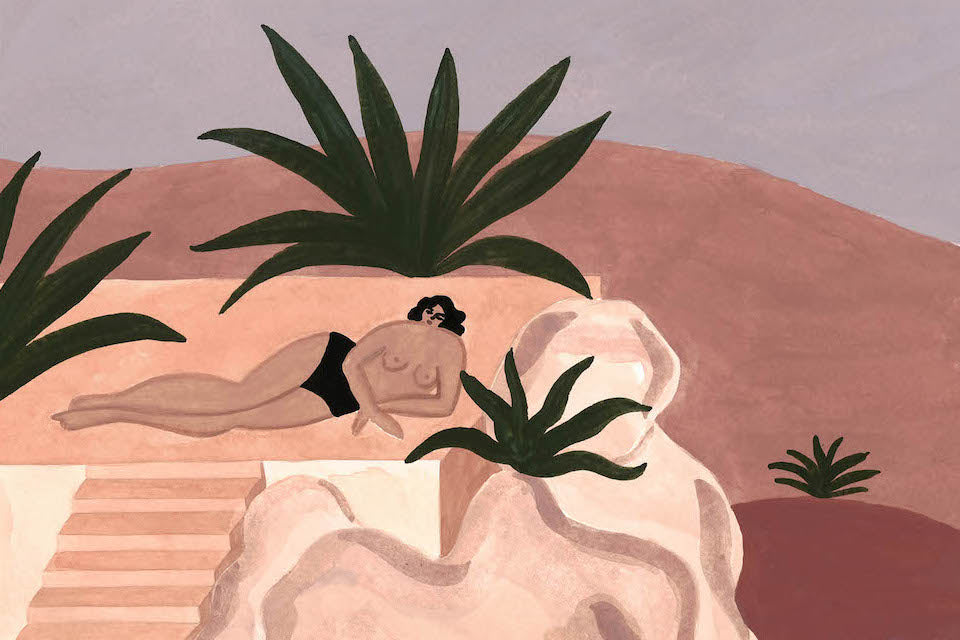 Being your very own boss isn't always easy. Overcoming setbacks, pondering huge decisions, staying motivated, stop being so hard on yourself. In this girl-crush series, we ask our favorite female entrepreneurs how they do it all.
First up: fabulous illustrator Isabelle Feliu.  
Mega talented French Canadian, half-Honduran illustrator Isabelle Feliu creates the most dreamy, colorful places filled with super-stylish women. All her art prints immediately make you want to grab your favorite dress and travel to an excluded palm-dotted oasis or arched-filled city. Celebrating freedom, womanhood, inclusivity & body positivity in the most perfect way, Isabelle always shows women having fun in beautiful surroundings. From Marrakech to India and beyond. Girl power wanderlust, it really doesn't get any better than this. And on top of all that, Isabelle is super lovely. So we just had to catch up with her to talk about traveling the world, her inspirations and the perks and challenges of running your own business. 
'I BELIEVE IT'S BETTER FOR YOUR BUSINESS ON THE LONG TERM TO CONCENTRATE ON WHAT TRULY INSPIRES YOU'
Hi Isabelle! We love-love-love your art so-so-so much. What influences you most? 
Thank you so much! So many things! These days, I am concentrating on making my work more personal by trying to focus on my moods and inner feelings, but my inspirations change all the time and sometimes I feel more inspired by things like travels, architecture, interior design and nature.
Your work makes us want to grab our favorite dress and travel to an excluded palm-dotted oasis or arched-filled city. What are your favorite places to travel to? 
Marrakech, Jaipur and more recently Oman have been very inspiring to me! But I don't really have any favorite place and I always look forward to discover somewhere new.
Where would you live next if you could choose anywhere in the world? 
If I could choose to move anywhere, I guess I would go back to Montréal. It is a bit of a boring answer but I guess there is nowhere like home in the end, even if I hate the cold.
You're half-Honduran. How did that influence your work?
My travels to Honduras really marked my imagination, especially when I was a child. It was always such a magical place for me where I had so much fun with my cousins. I guess today, I am craving and missing the magic of these tropical summers. I have a nostalgia of it and I guess it is translated in some of my pieces.
What does a day in your life look like? Do you have a daily routine to stay motivated?
I try to do emails and administrating stuff in the morning, the sun gets up at 9 - 10 am and sets at 3 pm in the winter in Oslo, so I try to take advantage of these hours to paint. Then I do a bit more of admin things, take care of my website or sketch a little. I try to see some friends or go out with my boyfriend in the evenings, as it can be a bit lonely to work from home sometimes and it's important to balance.
'MY TRAVELS TO HONDURAS REALLY MARKED MY IMAGINATION, IT WAS ALWAYS SUCH A MAGICAL PLACE FOR ME'
What is the best and worst part of having your own business?
The best part is to feel free; it is great to be able to choose the projects I want to work on, to travel when I feel like it, to be able to wake up when I want. I feel incredibly privileged and lucky to have all this freedom, and I try not to take it for granted. I would say that the bad part is loneliness and isolation, the instability and fear of loosing what I have in more difficult times. There is also the fact that it is hard to take some time off, I am always thinking of work somehow. I have always been a nervous person, but this generated a kind of anxiety that I had never known before.
How do you keep inspired?
I see inspiration as a very unreliable factor that I prefer not to count on. Sometimes, I feel inspired and this is great, but most days, my ideas shape themselves while I work.
Your prints are so colorful. Is your house like that too? 
Not really! I have more quiet tastes in terms of decoration and clothes. I like everything to be very minimalistic, with a few statement pieces. Living in Scandinavia really influences my tastes in terms on interior decoration.
'I WISH I HAD REALIZED EARLIER THAT I DIDN'T HAVE TO LISTEN TO OTHER PEOPLE TO BUILD A CAREER'
Do you have any advice for future girlbosses you wish someone had told you before you started?
I know it isn't always easy, but the first thing is to learn to say no. There are so many things you have to say no to when you start your own business; people will ask you to work for free "for exposure" or at a discounted rate, especially acquaintances. It is important to preserve your energy and your value by declining politely. There might also be projects that aren't interesting for you for many reasons, and although it sometimes feels like an alien concept to decline money, you should do it if you can afford it. I believe it is better for your business on the long term to concentrate on what truly inspires you. I also personally wish I had realized earlier that I didn't have to listen to other people to build a career. What worked for me was to do things my way in my own rhythm, even though people often told me I should accept certain types of projects, or draw certain things even if my heart wasn't in it.
And now for the final round: The lightning speed round. 3, 2, 1... GO
GUILTY PLEASURE | Drama in general and British reality shows
3 THINGS YOU CANNOT LIVE WITHOUT | Painting, traveling and pasta
FAVE OWN ARTWORK | De nouvelles découvertes
CHILDHOOD DREAM JOB | I often said archeologist, but truth to be told I had no idea
BEST SMALL HABIT | Eating veggies
GIRLBOSS MUSE | Garance Doré
Want to know more about our super-star girl-crush Isabelle?