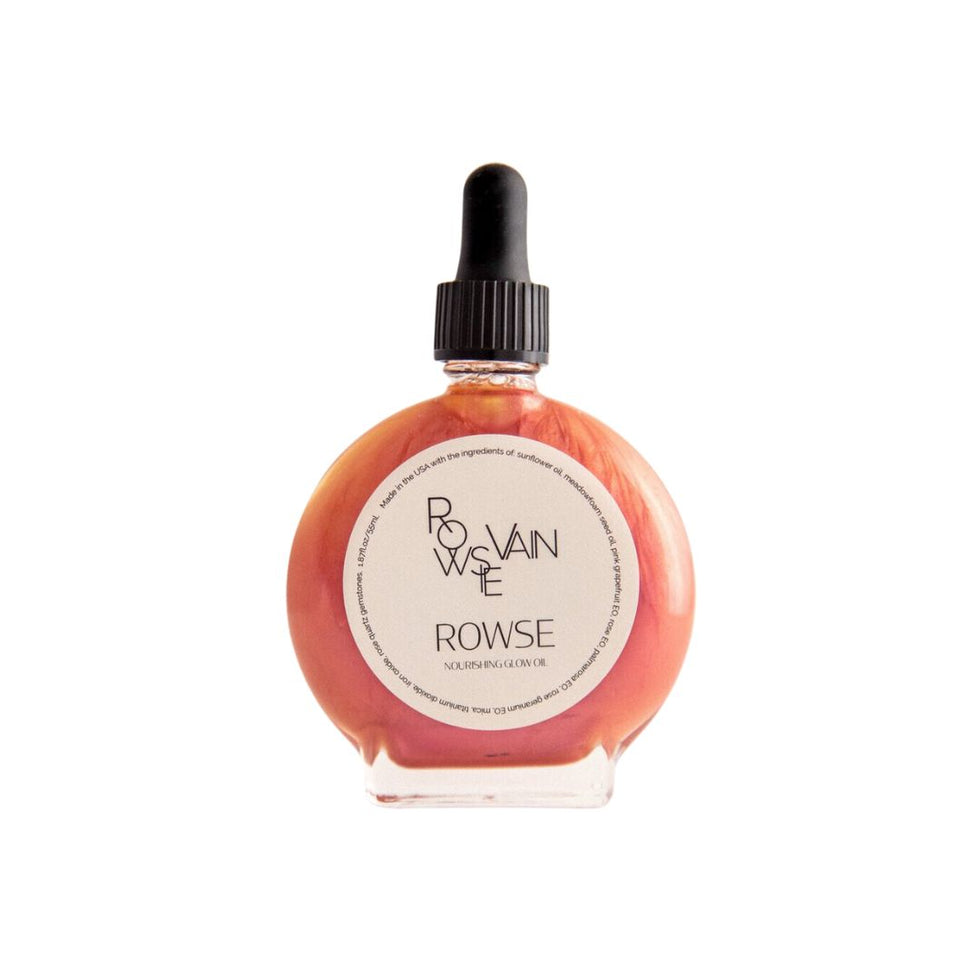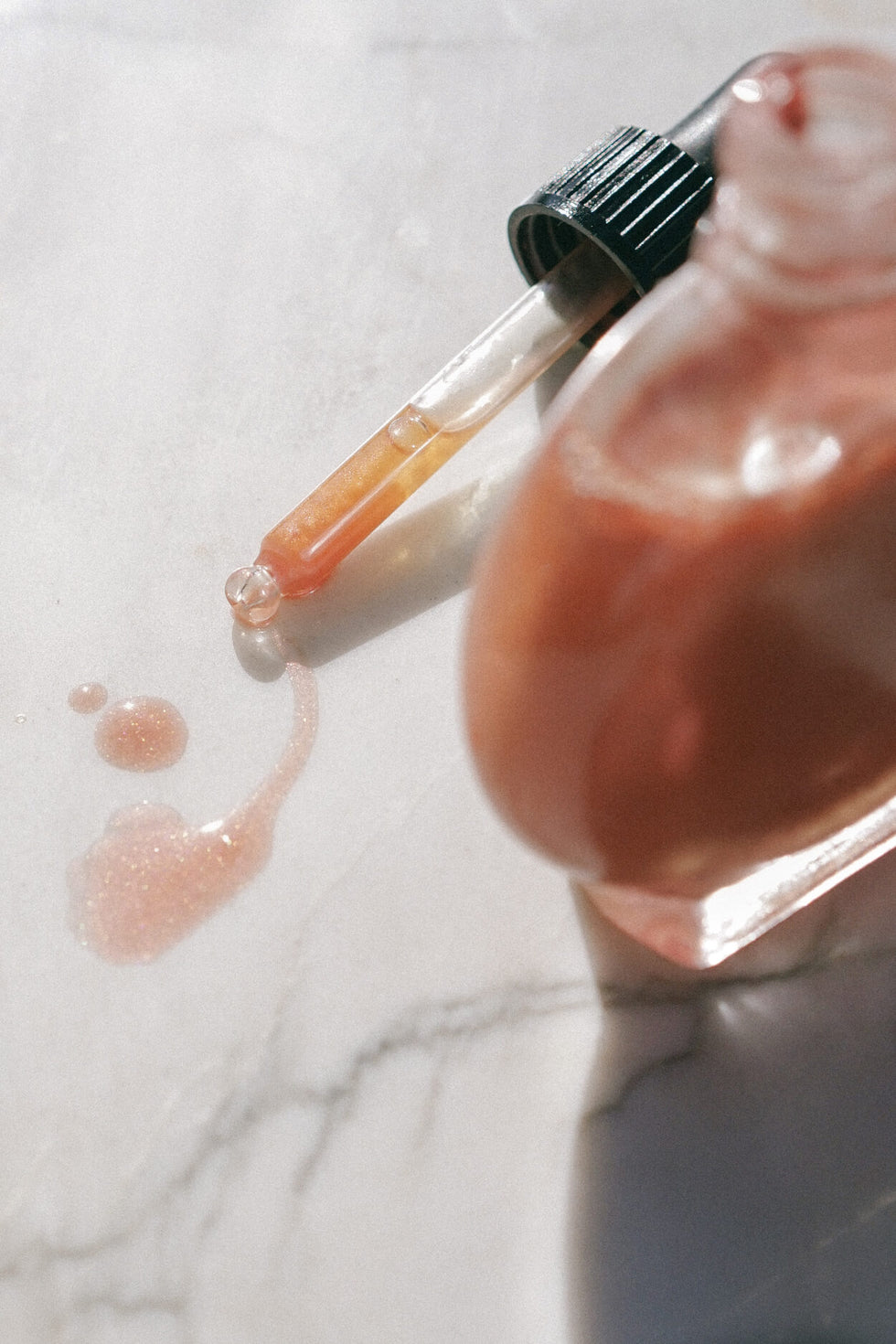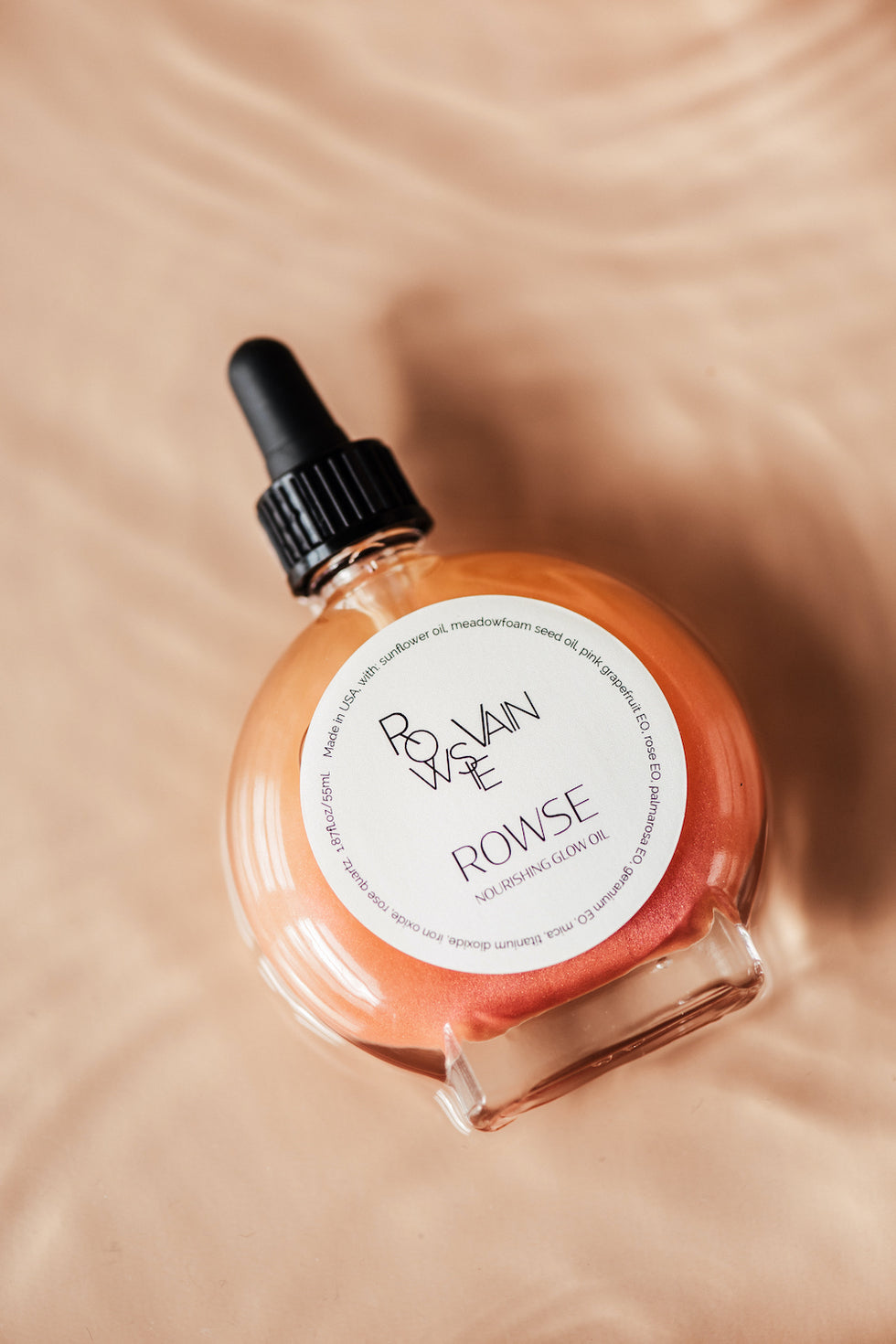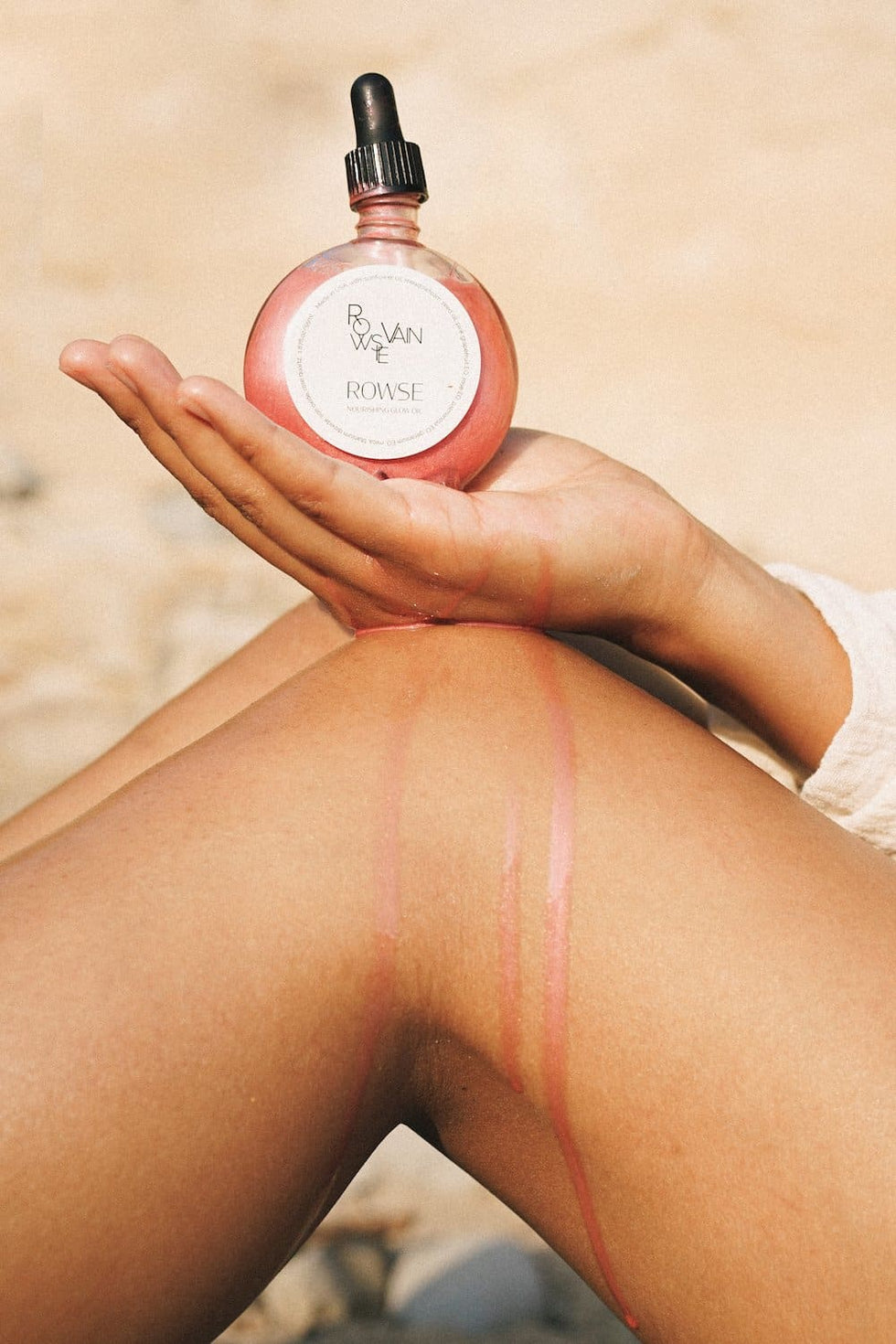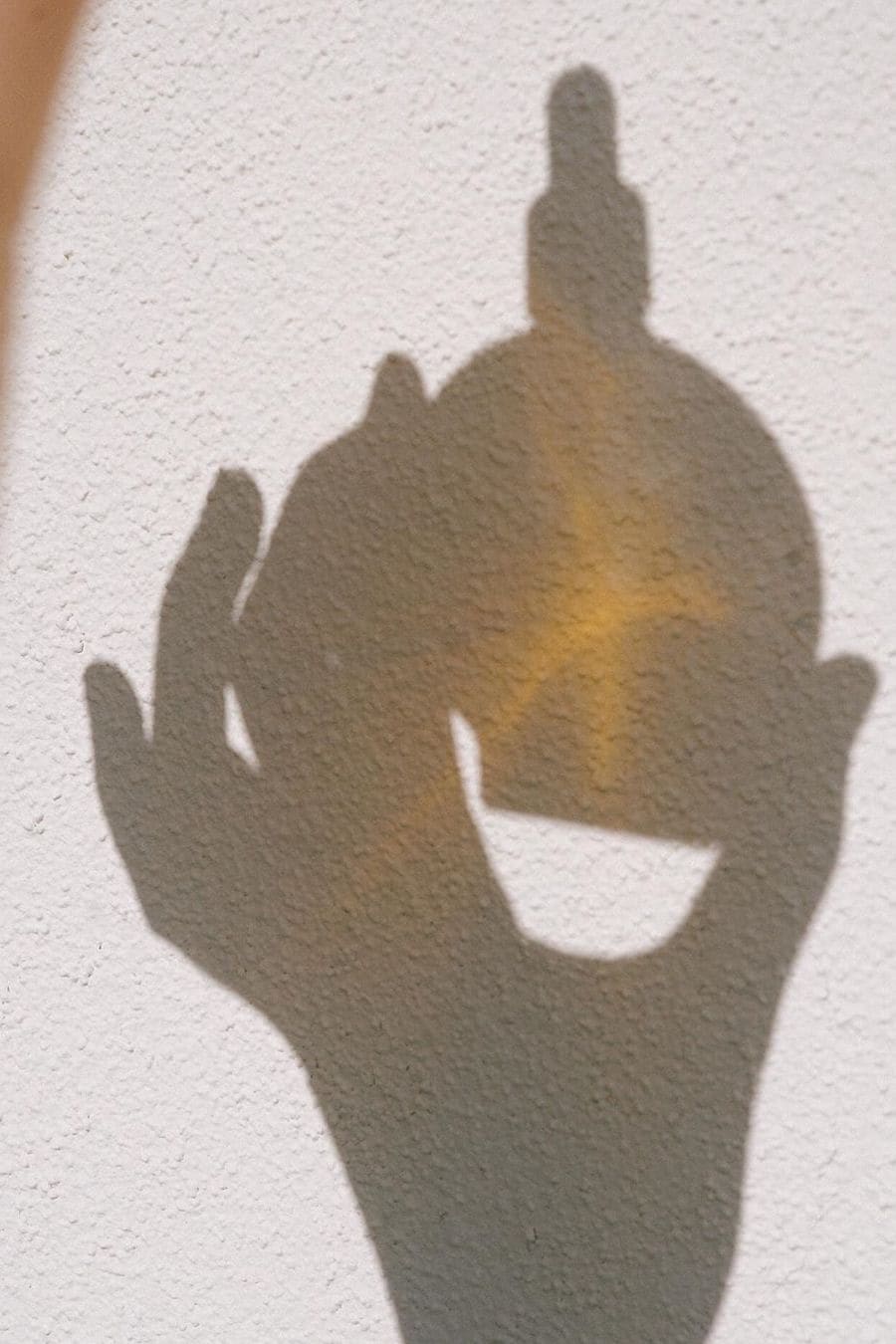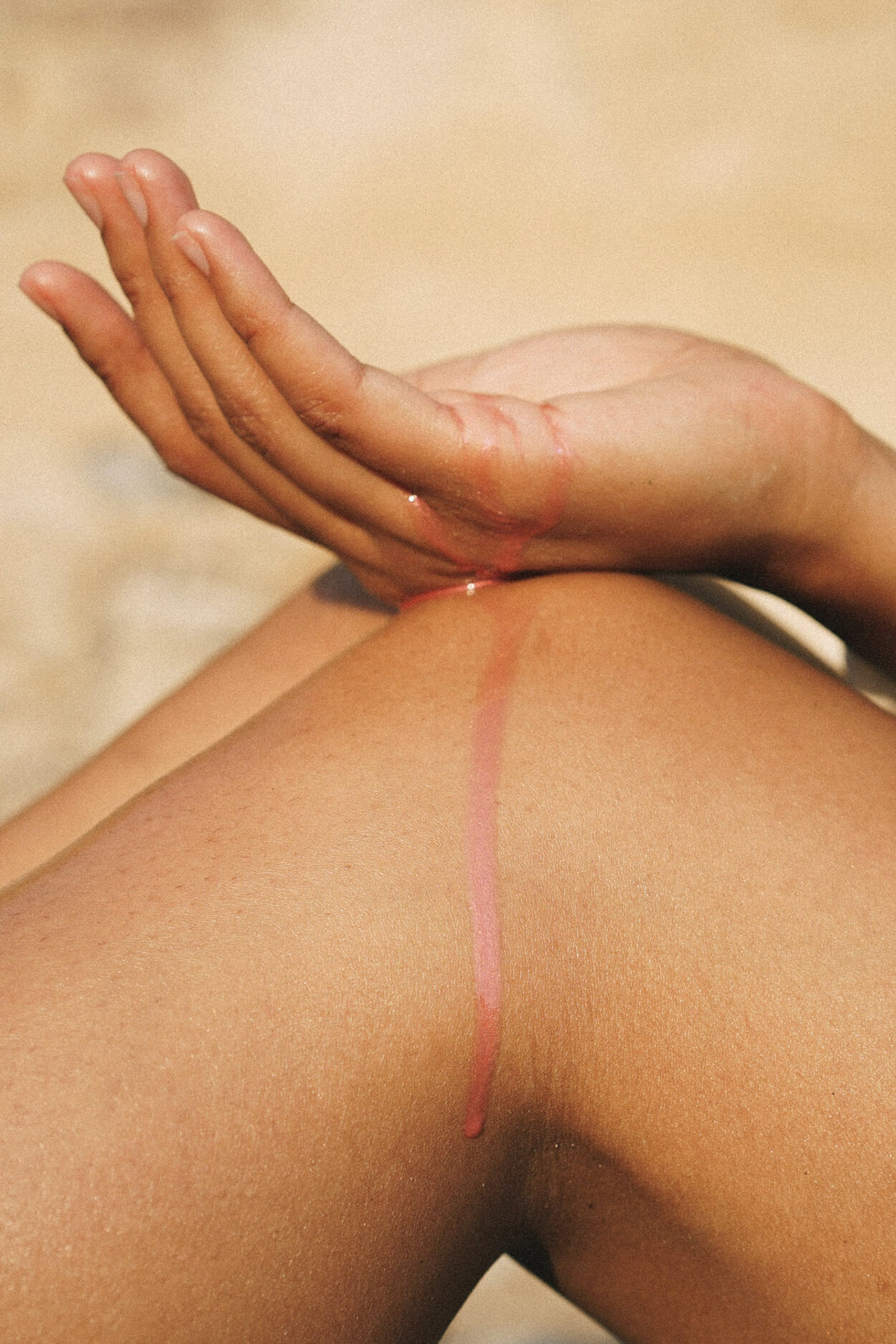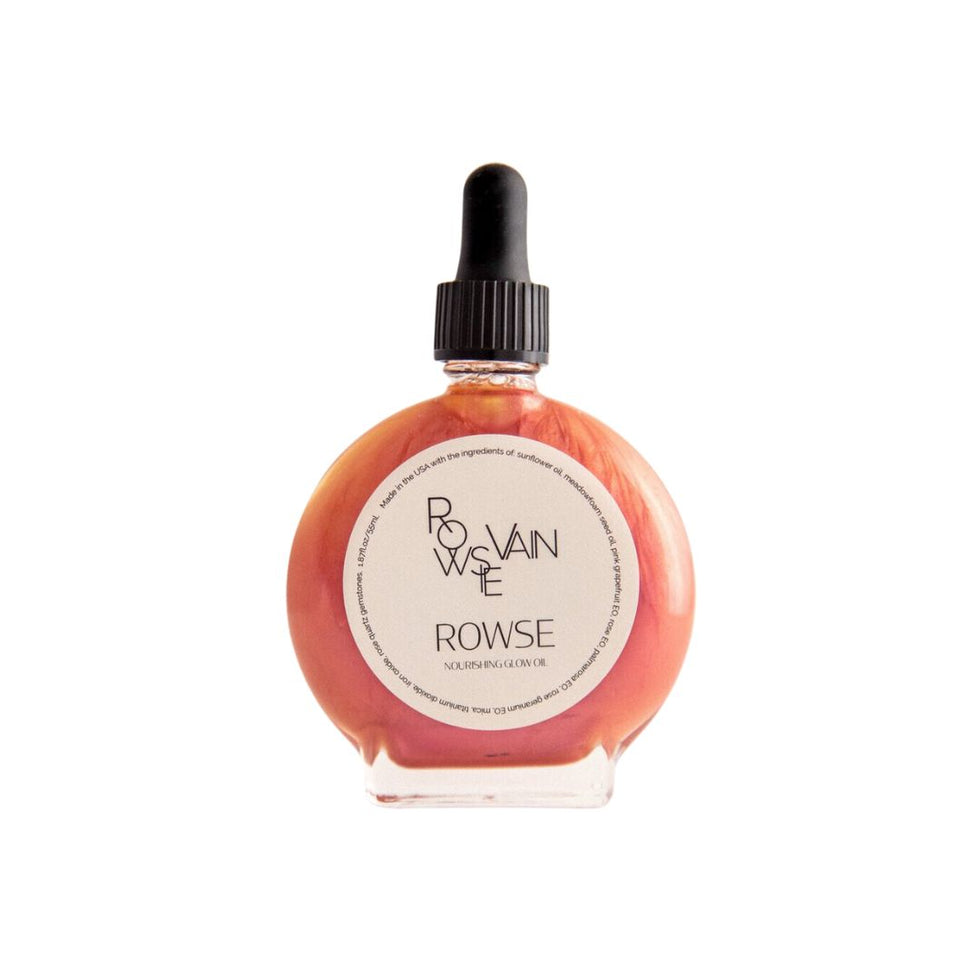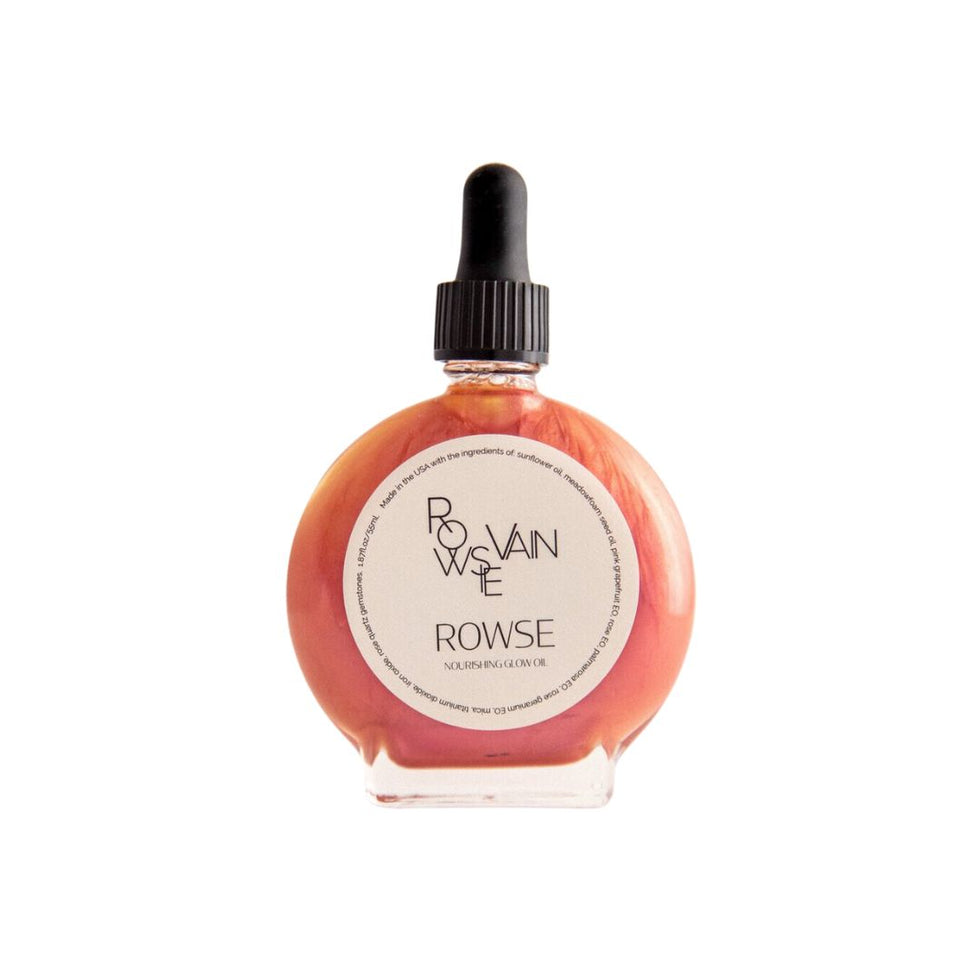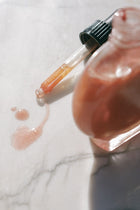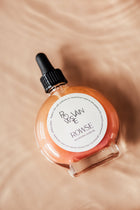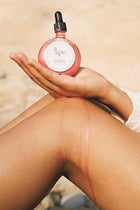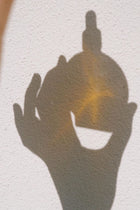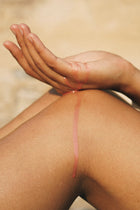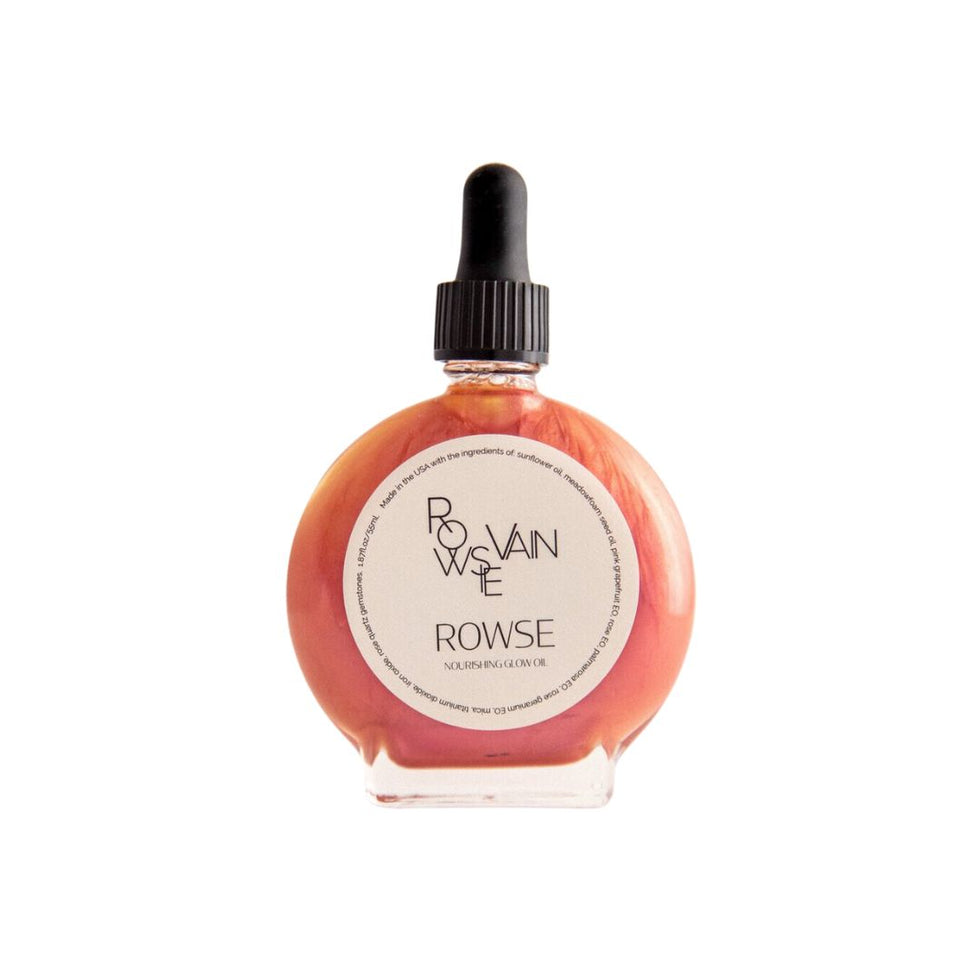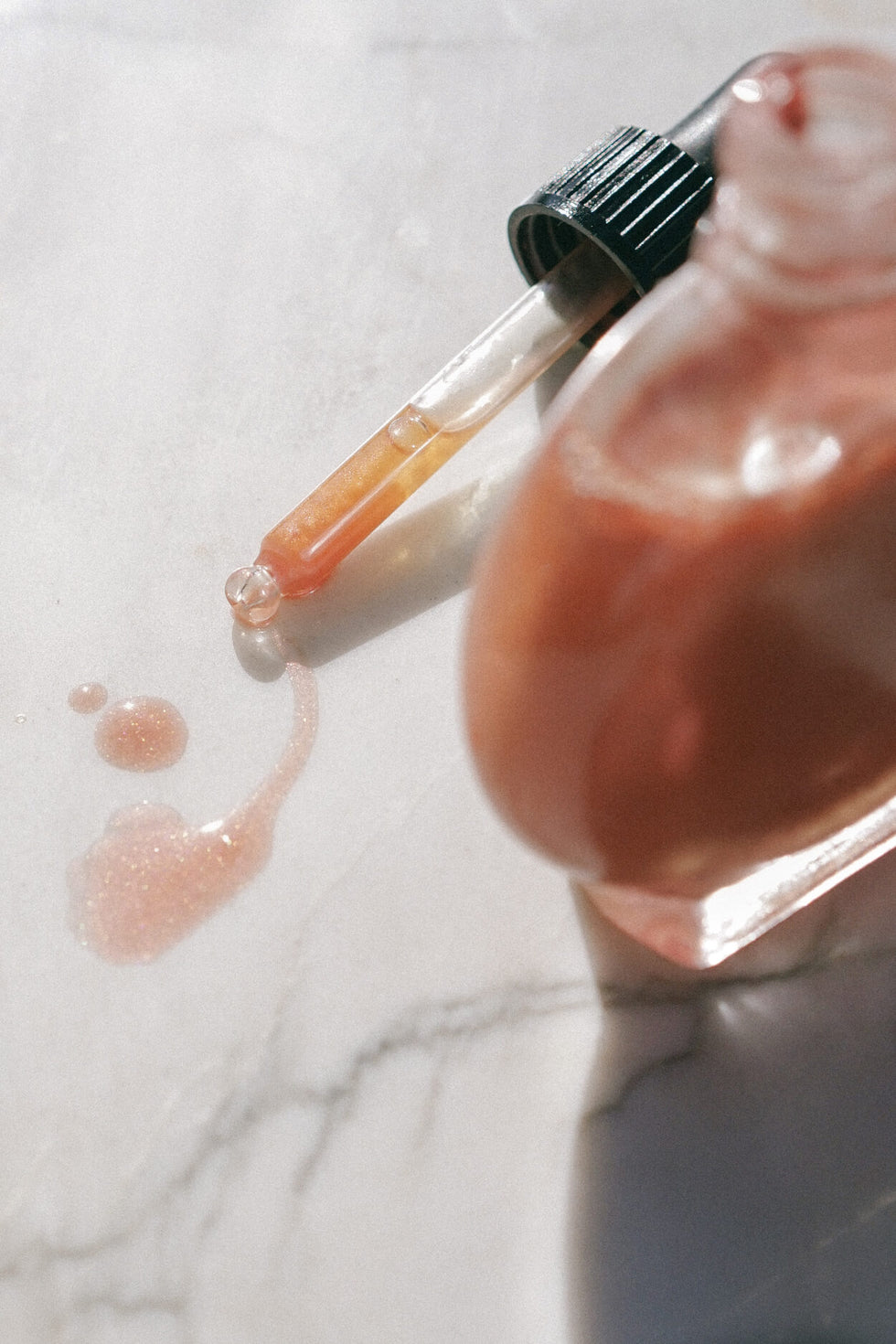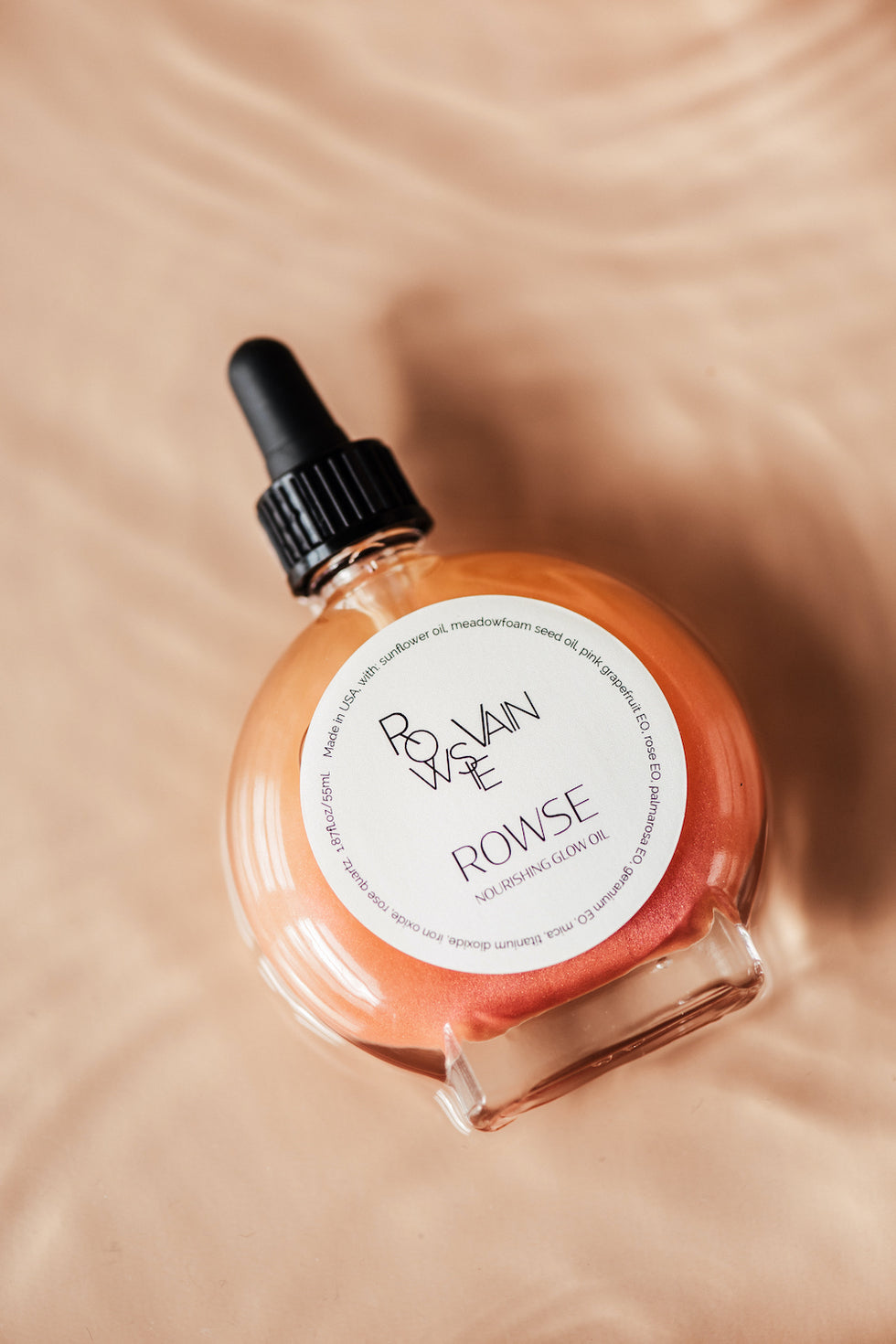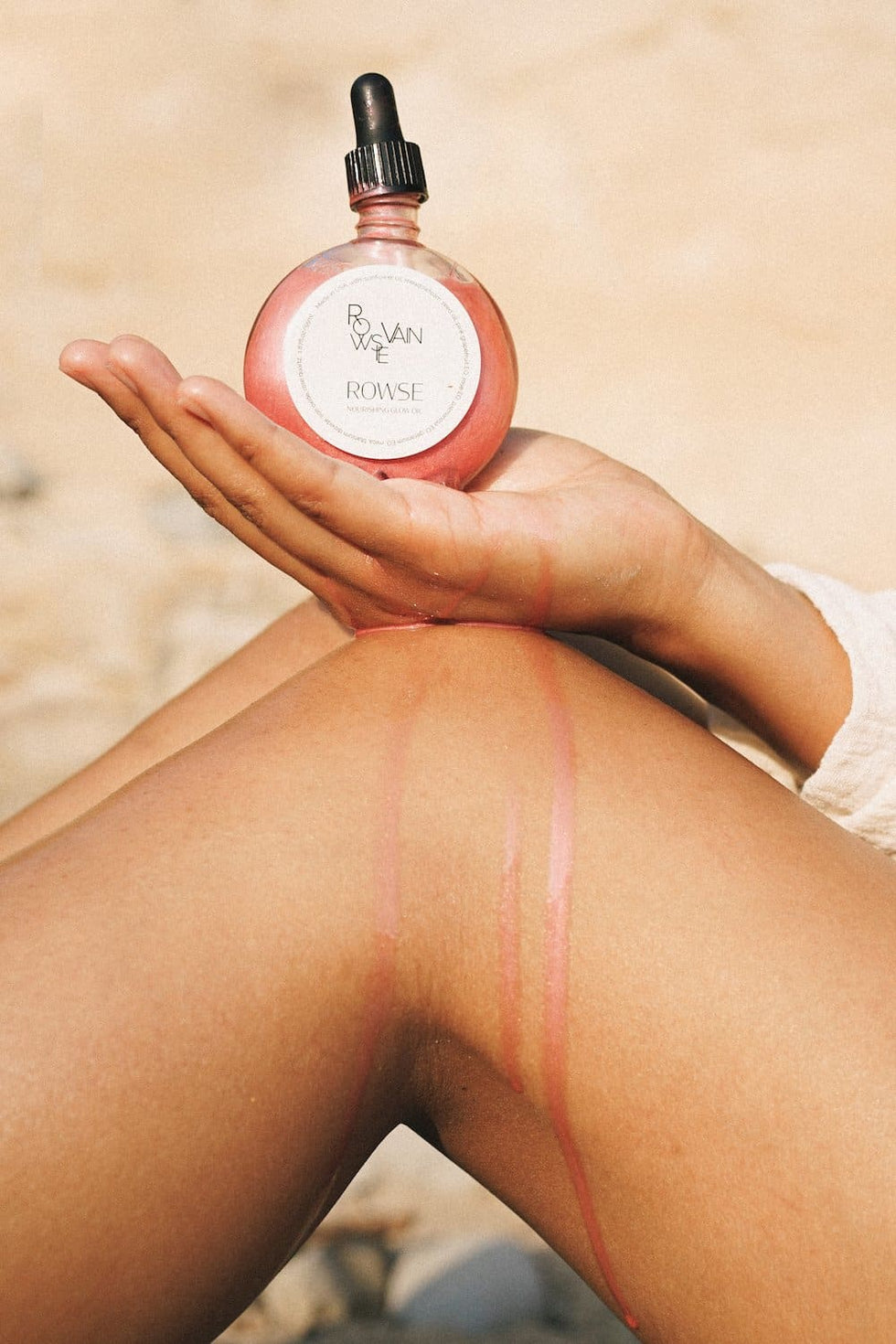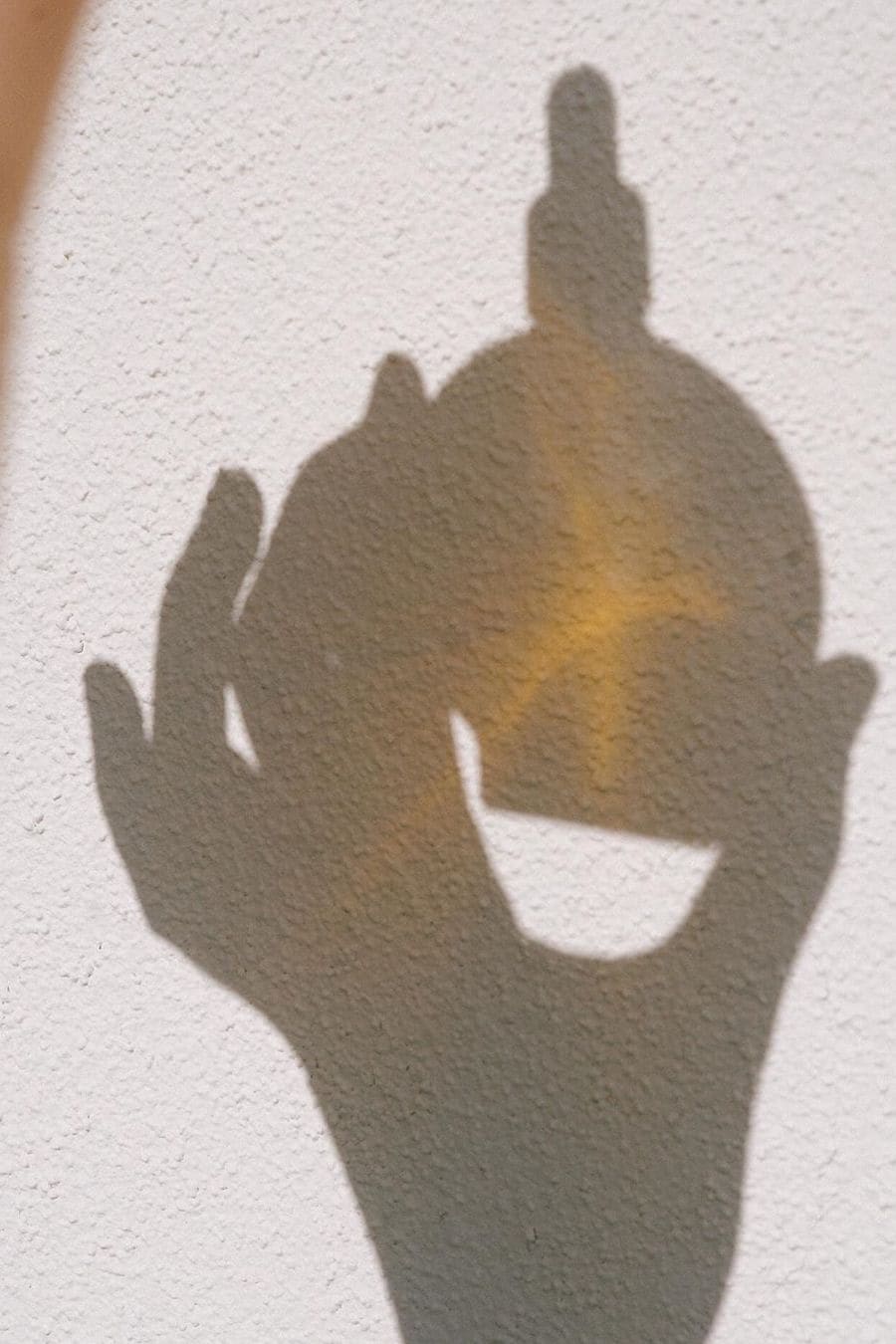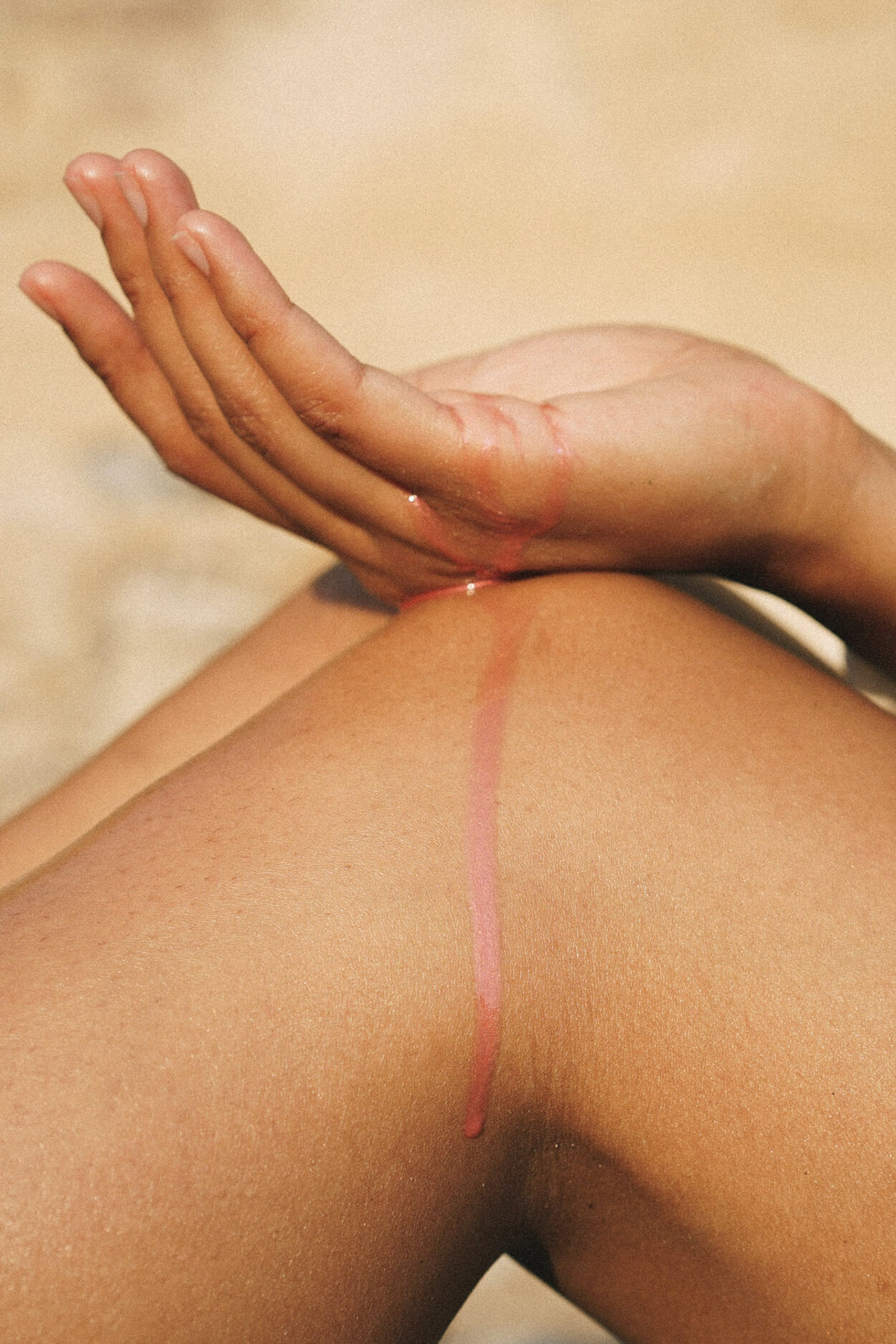 PRODUCT INFORMATION
SHIPPING, DELIVERY + RETURNS
SUSTAINABILITY + ETHOS
CUSTOMER REVIEWS
PRODUCT INFORMATION
This rowse glow oil by Rowsie Vain is one of our favourite things in the whole-wide-world. Plant magic blends in powerhouse oils to create a perfect shimmering highlight glow for your skin, hair and pretty face. This elixer is not just a pretty face though. It's super nourishing & hydrating, helps sooth dry skin and leaves it moisturized and dewy. Filled with botanical superpowers that go back to Ancient Egypt & the Roman Empire and infused with stone of love rose quartz, rowse glow oil also helps calm down your skin. With top notes of geranium & rose and a splash of grapefruit.
Directions for use: Gently shake before applying to skin, hair, face or any area that needs a highlight, glow, moisture & scent. Use without shimmer when mica settles as facial oil or everyday scented moisturizer.

Also as bronze alchemy, copper copper head, pearly summerland + iconic dreamgirl
ROWSIE VAIN CLEAN BEAUTY
Rowsie Vain is all about wild small-batch clean beauty, creating earth grown solutions for unapologetic self love. Based in valley of the moon Ojai, rockstar boss babe Whitney makes botanical & effective beauty by hand using only natural, wild & organically sourced ingredients. Rowsie Vain's au naturel, multi-functional & absolutely devine smelling skincare will have you falling in love quick. Self-care Sunday, every day. 
NATURAL SKINCARE. Handmade in California.
---
Botanical, vegan all-natural clean beauty

Cruelty free, never tested on animals 

Free of synthetic preservatives & harmful ingredients
Small-batch, handmade apothecary
Volume: 55ml (1.87oz) glass bottle
Ingredients: Sunflower & meadowfoam seed oil, pink grapefruit, rose, palmarosa & rose geranium essental oil, mica, titanium dioxide, iron oxide
SHIPPING, DELIVERY + RETURNS
 FREE SHIPPING > €70 (nl), €75-180 (eu) + €300 (w)
 FAST DELIVERY order before 12 = send same day
SUSTAINABLE EVERYTHING slow jewelry + beauty
For all info on shipping, delivery + returns, click HERE
SUSTAINABILITY + ETHOS
WILD // FREE Rogue is all about handpicked girl power gorgeousness for the wild + free hearted. About choosing your own path, following dreams and staying wild. And self love, baby girl. Self love, first. But make it sustainable.
That's why we only curate indie brands that are sustainable. By using recycled and the best materials. By never-ever over-producing. And by always, always taking good care of the people who make your gorgeousness.
From the colorful glass ring we wear every day to our fave botanical dreamgirl perfume and vegan + non-toxic hot pink nail polish. Because sustainable doesn't have to be minimal. At Rogue, you'll find statement jewelry and the most effective skincare that also looks amazing on your nightstand. You can have it all.
Everything is from businesses that are run by fellow boss babes. Because when women support each other and follow their dreams, magical things happen.
So join our conscious girl power revolution and shop your favorite drop-dead gorgeous sustainable jewelry +  cruelty-free, vegan clean beauty. Buy less, choose well. Walk on the wild side. Support your girl gang. 
JOIN THE REVOLUTION // GO ROGUE
Read more about how we're sustainable here.
you might also love