4 DAYS IN PALM SPRINGS, CALIFORNIA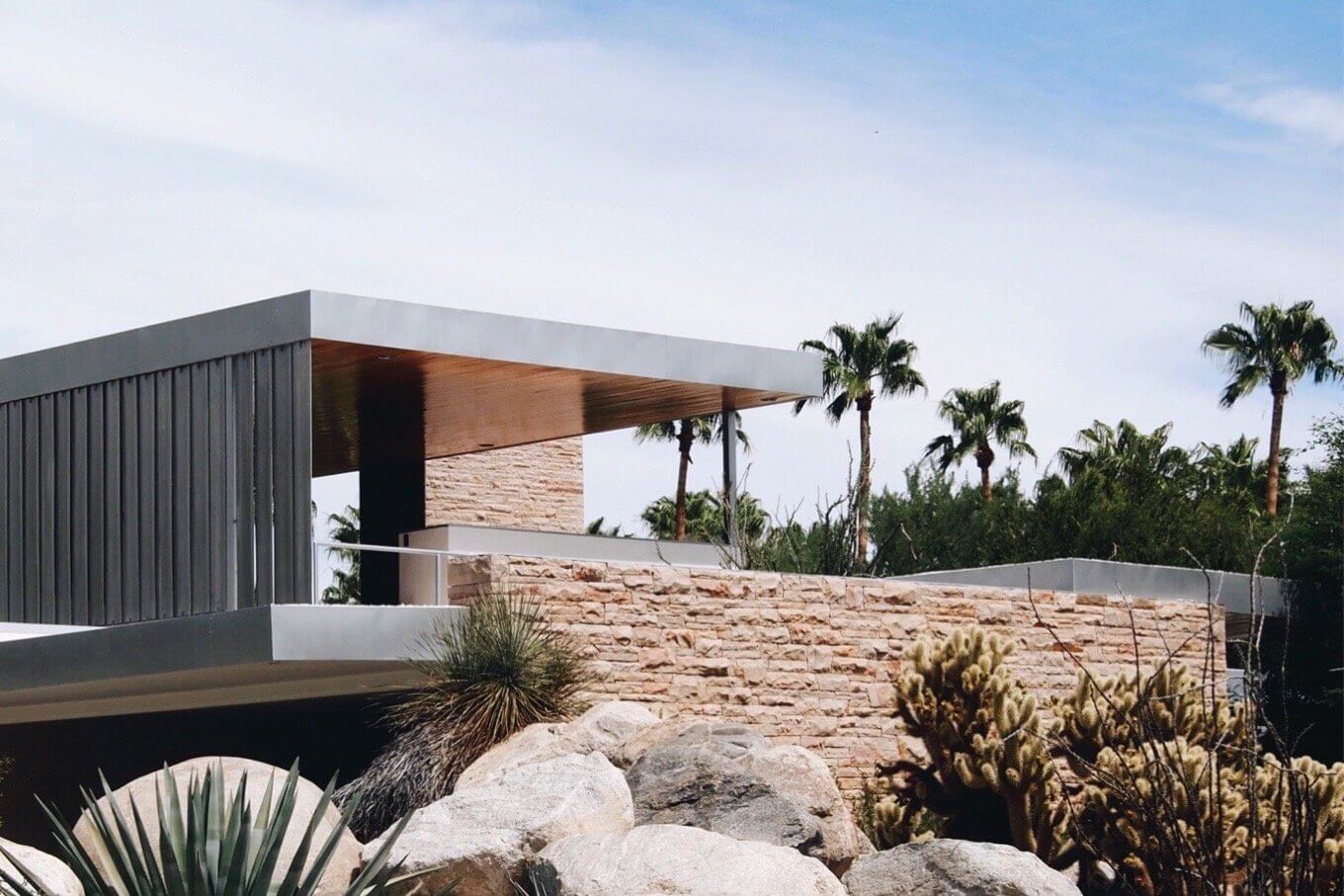 After driving for what seems like forever through miles and miles of wonderful desert emptiness, swaying palms and tiny desert houses begin to welcome you to the Coachella valley. And when hundreds of slick windmills catch your eye, you know you've arrived. Sun-kissed Palm Springs is the desert home of countless mid century modern architectural stunners, insanely cool boutique hotels and the cutest indie vintage shops. It's no wonder it's made a recent Hollywood playground comeback after Frank Sinatra and Judy Garland's Rat Pack roamed the streets in the fifties and sixties. Now get ready for that well-deserved pool day, brightly colored front doors and a little bit of stardust in this drop-dead gorgeous palm dotted oasis. 
DAY ONE
POOL DAY & INDIE SHOPPING
After driving from your Grand Canyon hide-away cruising down one of the prettiest pieces of Route 66, you're going to need that well-deserved bit of peace and quiet. It's the desert, so be sure to book a cute boutique hotel with a pool and spend the last few hours of the day dozing off with your toes in the cold water. 
After, grab a meal at one of the hip-and-happening but surprisingly affordable restaurants on Palm Springs pretty Palm Canyon Drive. We went for a 3-course meal at Lulu's and let me tell you, after a few days of Nevada and Arizona it's good to have vegetarian options besides cheese pizza or a veggie burger. Hallelujah. With a full belly, stroll around the many indie shops filled with crystals, natural skincare and vintage treasures. On Thursday evenings, there's a cute open air market with loads of good street food that is definitely worth checking out.
DAY TWO
ARCHITECTURAL WONDERS & BOTANICAL GARDEN
If you're like us, you L-O-V-E everything mid century modern. Palm Springs is the ultimate capitol of fabulous desert modernism architecture. Dream houses are everywhere. And we mean everywhere. There's a brightly colored door in every shade of the rainbow, exotic greenery is carefully placed against the coolest walls and triangle roofs are the absolute shit. I need to win the lottery asap.  
Countless architectural marvels dot the streets of Palm Springs, but knowing where to go definitely makes it a lot easier to find your ultimate crib. At the south end of Palm Canyon Drive, near the absolutely fabulous Ace Hotel I wanted to steal a fancy-ass round sun screen umbrella from, is the real deal when it comes to those pink doors you've been looking for. That pink door included. East Sierra Way (*where it's at), Alhambra Drive, East Twin Palms Drive, South Camino Real & Murray Canyon Drive are great places to start cruising. It's a suburb though, so don't be creepy and respect people's privacy. When you get hungry, converted former Denny's King's Highway at the Ace Hotel is it.  
Palm Springs is filled with either famous houses designed by architectural masterminds, stunning houses made famous by its starry residents or a combination of the two. Looking beyond the pretty downtown shop fronts is a good way to start, but bike or drive by a few drop-dead gorgeous dream houses for some more action. Our favorites include Albert Frey's fabulous Tramway Gas Station which is now the Visitors Centre on 2901 N. Palm Canyon Drive, Richard Neutra's stunning Kaufmann House on 470 W. Vista Chino and ultimate beauty Elvis & Pricilla's Honeymoon Hideaway or the 'house of tomorrow' by William Krisel on 1350 Ladera Circle. 
While you're in the neighborhood that you wish was your very own neighborhood, pop by the lovely little Moorten Botanical Garden. Still privately owned by son Clark, this desert garden of Eden was started by Patricia and Chester Moorten who discovered that selling the cacti he collected was a lot easier and more profitable than working in the mines. They designed fabulous gardens for Frank Sinatra and Walt Disney while curating the Moorten at their very own home. The botanical beauty boosts cute turtles, all kinds of cacti and the loveliest greenhouse. Five dollars and an hour well spent.
DAY THREE
JOSHUA TREE NATIONAL PARK
It's time for the ultimate cactus and agave safari at Joshua Tree national park. The park is named after the marvelously twisted, spiky Joshua Tree, that is actually a yucca, which is actually one of my fave plants. The Mojave & Colorado desert wonderland has perfect desert views, lots of cute plants you wish you could take home and a chance to relive your youth by climbing on its famous boulder rocks. 
Take the north entrance at pretty 29 palms, make a detour past the cute Cholla Cactus Garden and follow the essential loop in the park past cool rock formations, viewing points over the Coachella Valley and loads and loads of wonderful Joshua Trees. You know you want to. You'll exit the park at the other north entrance where you can stop to have a bite and buy yourself a little conscious something in one of the cute shops that straddle the highway. Roadside shopping and desert roaming never felt this fancy. Make sure to get a slice of heavenly pizza from Pie for the People to eat in their backyard. You won't regret it. 
DAY FOUR
CRUISING COACHELLA VALLEY
Today, take a cruise around the valley. They see you rollin', they hatin'. Everywhere you go, there's pretty views. And palms. So, so many palms. And since you're in the States, it's time to enjoy some good old-fashioned American road-side attraction action. PS: If you're not into palms, this is not for you. 
First stop is the Thousand Palms Oasis at the Coachella Valley Preserve. What can I say? It's marvelous. The name pretty much says it all: In the middle of the desert, what feels like thousands of palms are packed closely together in a magical wonderland of swaying leafs and wooden pathways. Walk along one of the many trails and think about how you don't have any of this at home. 
It's only a short drive from the oasis to the next palm-packed must-see. Shields Date Farm. This truly American roadside attraction is all about, you guessed it: Dates. Blondes, brunettes. You name it, they've got it. Take a stroll through the date palm orchard, watch that famous movie on the romantic life of dates and do not leave before trying their signature date shake or ice-cream. It's seriously good.  
If you like thrifting, stop at a few Angels View thrift stores that dot the valley. Or as the boyfriend would say: Same shit, different day. I love-love-love vintage treasure hunting and these shops are one of the coolest I've seen anywhere. The whole valley is super stylish, covered in mid century stunners and filled with cool people. And those cool people brings some really cool stuff to good will. There's loads of vintage (designer) clothes to sort through and the home decor is fabulous. I managed to cram two gorgeous pastel-colored vases into my suitcase that are now shining in Holland. They must be cold.  
While we're out and about and at it, make your inner child extremely happy with the ultimate of ultimate iconic roadside attractions: the Cabazon Dinosaurs. They're fun, they're cool and they'll make one person jump for joy and the other one wonder what the hell they're doing here. I'm obviously the happy one. These babes were on my list for as long as I can possible remember and although they were smaller than I though, they're everything. Mr Rex and Dinny the Dinosaur were born from the mind and hands of Claude K. Bell, a sculptor from the famous LA theme park Knott's Berry Farm, who wanted to draw more folks to his restaurant. And it worked, big time. Don't miss out and climb into Dinny's tail to see that she's beautiful inside and out. That's it boys and girls, our four days in Palm Springs. It truly is a magical place. Wanna know what happened next? Click here.