4 DAYS IN LOS ANGELES, CALIFORNIA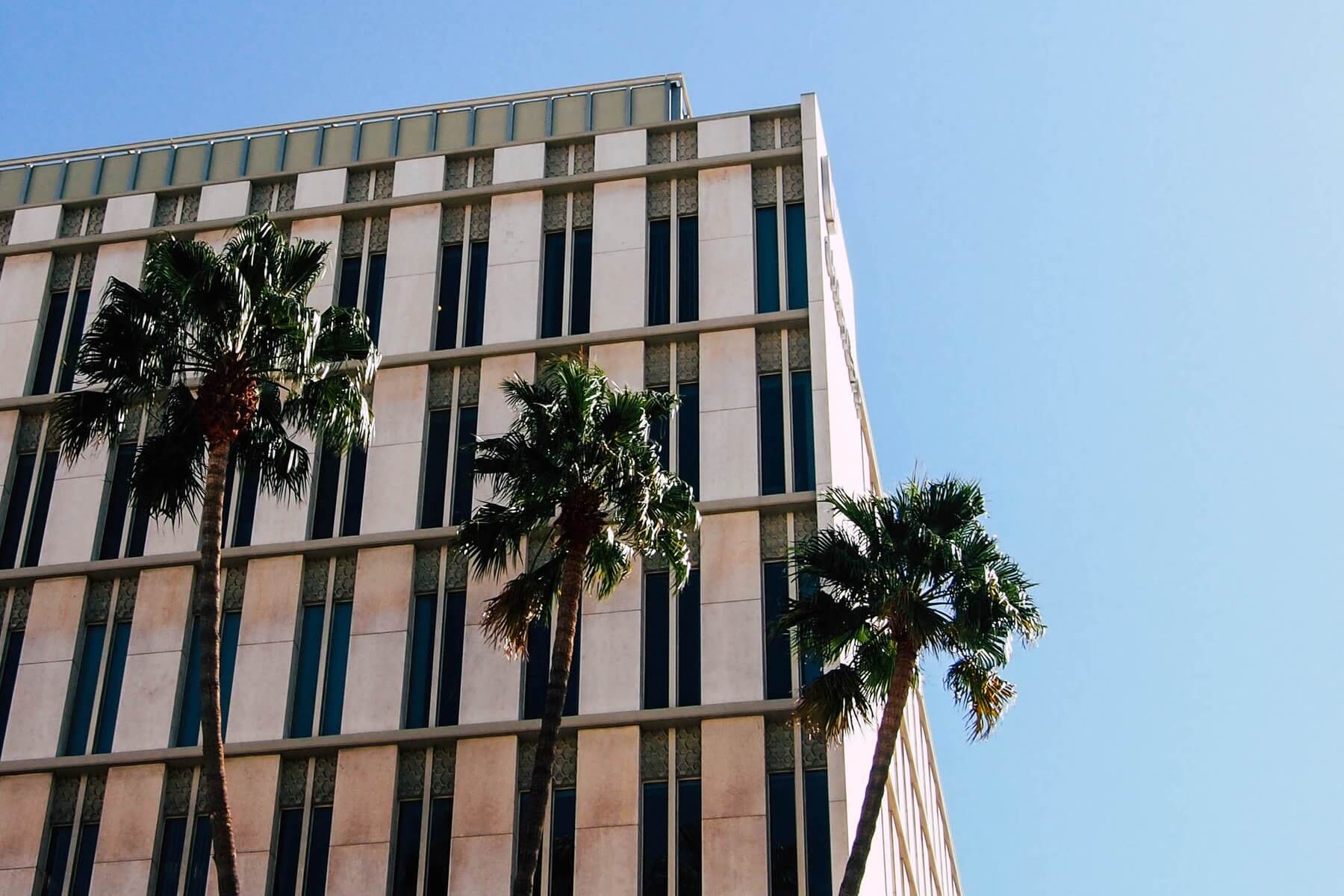 It's time to hit the birthplace of so-many-things-cool: Los Angeles. LA is the total embodiment of that all-American stardust, but there's more to her. True, the City of Angels can come across as a concrete jungle. But it has so many gorgeous areas, crush-worthy architecture, cute indie places and truly iconic attractions that it's hard not to be starstruck by her beauty. So get ready for some LA action, Mia and Sebastian style.
LA LA LAND, HERE YOU COME
DAY ONE
VENICE BEACH & SANTA MONICA
To adjust a little to the hustle & bustle that is LA, start your first day off at iconic Venice beach. Playground to a whirlwind of people, it managed to keep her laidback charm. Park at one of the flat day rate parkings and make your way to the stretches and stretches of sandy boardwalk. Spot that classic American lifeguard tower, run in dramatic Baywatch slow-motion along the coastline and head up the small pier to check out some local surf-dude hotties 'work it'. For equally cool guys, go to the skatepark to marvel at tricks that will cost you a tooth if tried at home.
For some more laidback action, take a stroll along the famous Venice canals and equally iconic Venice sign we walked passed three times before spotting it, before making it to Abbott Kinney boulevard. Filled with indie boutiques, gorgeous murals and hip-and-happening bars, this is the place to be. Get yourself a donut and a conscious goodie at one of the many, many cute stores. If you're up for a really, really long stroll that you thought was going to be much, much shorter, do it our way and walk along the coast all the way to the Santa Monica pier. It's tacky, it's touristy and your feet will no longer like you. Don't be like us. It sure is nice to sit at the end of the pier during sunset though, especially if you're lucky and a very talented singer is playing your fave golden oldies. Welcome to the Hotel California.  
DAY TWO
HOLLYWOOD & BEVERLY HILLS
Today is the day you're going to tick some truly legendary top sights off of your list. It's classic LA o'clock my friends. First stop is Hollywood. If you can resist the temptation, please do. We unfortunately couldn't and had to bear the consequences of our ever-lasting curiosity. Walk along Hollywood Boulevard checking out the Roosevelt Hotel & Oscar headquarters Dolby Theatre while trying to read the walk of fame stars. Half of them is written 'upside down', so the struggle is real. Simultaneously, attempt dodging all other tourists doing the exact same thing while shouting 'Marilyn Monroe!' and 'Ryan Gosling!' (okay, that last one might have been me, but you're catching my drift). An-y-ways, it all made us a little sad. I would like to thank my friends, family, dog Elton and my loyal fans we could find our car back.   
After this life-changing experience, head to posh Beverly Hills cruising down Sunset Boulevard. It has the greatest name, you'll feel better right away, it's lined with nice houses and provides views to even nicer houses on the hills to your right and the city to your left. Park your car (for free!) in 90210 and just wander around Rodeo Drive for a while to look at cool architecture and even cooler cars driven mostly by not-so-cool old-aged white men. Looking for an affordable place to eat, we opted for the Cheesecake Factory terrace to do some people watching. After, drive around the area to marvel at those legendary drop-dead gorgeous streets lined with the tallest palms, stop at the beautiful Beverly Hills Hotel and pretend to be Brandon or Kelly. 
Now for our favorite part, drive to Frank Lloyd Wrights Hollyhock House. Located on a hill in a small park, this architectural marvel is just too cute. There's tours to go inside but you can also opt to just lay around the park for a bit and take in the stow-stopping views of the city, the Hollywood sign and wonderful Griffith Observatory. Breathtaking, everyone. Bonus points: there are loads of willing dogs around for you to cuddle. 
DAY THREE
DTLA & THE GETTY CENTRE
Now that you're properly adjusted to the city, it's time to hit downtown Los Angeles, or DTLA for cool folks. Start your day at Upstairs, the fabulous Ace Hotel rooftop bar with stunning 360 degree views of LA and beyond. Located in the roaring 20's chic, partly Charlie Chaplin funded United Artists theatre, it screams gorgeousness at the top of her lungs. Marvel at the views while enjoying your morning cocktail, or coffee. Whatever you want. After, walk along legendary vintage movie palace dotted Broadway imagining you're there to catch a movie in the 1920's.
Cross pretty Perching Square to make your way to contemporary art museum The Broad. It's free and it's busy so the earlier you arrive, the better. Get in line for a time slot to enter extremely popular Yayoi Kusama's The Souls of Millions of Light Years Away once you're inside before checking out famous art by Roy Lichtenstein and Andy Warhol. Keep an eye on your phone to return to Kusama's highly instagrammable infinity mirror room that I now want, no need, in my house. Next door, silver show-stopper Walt Disney Music Hall is an architectural dream to explore before laying down for a bit at Grand Park. 
When you're ready to eat, as we always are, head to nearby Grand Central Market. This hipster hang-out with neon signed food stalls is the place to grab a really tasty bite of just about anything, the Egg Slut being my personal favorite. At the other end of the market is a true La la land classic, so get your Mia and Sebastian on at the cutest Angel's Flight; a tiny, bright orange tramway that will save you a lot of uphill walking while simultaneously having fun. Now that's what we call a win-win situation. 
After, have another La la land moment cruising Mulholland drive through the Hollywood Hills past million-dollar homes and billion-dollar views to get to the Getty Center. Two museums in a day might be pushing it, but both are not really museums-museums, if you know what I'm saying. Take the sci-fi tram featuring incredibly irritating Startrek-ish music to get to The Getty's Pinterest perfect curvy architecture, city views, gardens and art including Vincent van Gogh's Irises. After all that, drive down to fab West Hollywood to get a Shake Shack portobello burger. God, I miss those.
DAY FOUR
MELROSE AVENUE & GRIFFITH OBSERVATORY
Feel like you're in a 90's tv-show yet again walking along legendary Melrose Avenue & Melrose Place. Stop at popular local hang-out Urth Caffé and pink instagram heaven Glossier, try your best to avoid crowds standing in line to take selfies at famous walls and satisfy your sweet tooth at fave Milk Bar. It features an awesome vintage truck, pink neon sign and birthday cake-dough truffles. Yes. Unbaked birthday cake. Seriously, what's not to like here.  
When you're all peachy, drive to mind-blowing Griffith Observatory for our ultimate LA number one. Park your car for free near the Greek Theatre, take the shuttle or do an easy roadside hike to this out-of-this-world gateway to the cosmos. I've always been a star-gazing moonchild and combining it with the coolest domed building and sweeping views starring DTLA and the Hollywood sign is just too good to be true. Only true. Get there when it's still light and guard a perfect spot to see the city turn orange, pink and finally black with millions of twinkling lights. Yes, twinkling. Told you it's wild.
When you can finally drag yourself away from THAT view, head inside to the observatory exhibitions. See stars, planets, eclipses and moon phases, walk on the lawn solar system, watch the earth turn at the pendulum and have another perfect Mia & Sebastian moment looking at the incredible Tesla coil in action. Don't forget to go to a show about a galaxy far, far away at the planetarium to 1. learn a great deal, 2. marvel at the cosmos and 3. have the perfect Big Bang theory flash-back. I'm Dr. Rajesh Koothrappali, thank you for taking a walk with me ... through the stars.